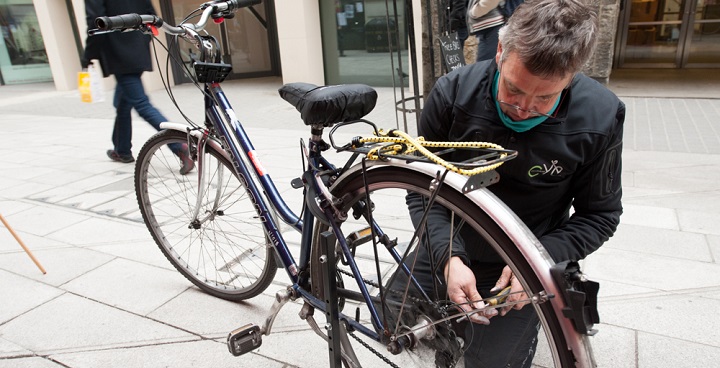 Try before you bike
Try before you bike enables you to borrow a bike for £10 for 4 weeks and see how it fits into your life. Lots of support and the option to buy the bike at a reduced cost at the end of the period.
Dr Bike
Our professional bike mechanics set up stations around Lambeth offering free cycle maintenance checks and advice. Dr Bike will look at your brakes, tyres, gears and the general road-worthiness of your bike.
Bring your bike for a free check up. The mechanics will fix what they can in the allotted time.
Find a Dr Bike session near you.
Bike markets
Our bike markets enable you to sell an old bike and/or buy a second-hand one.
They are often held in schools before they have a course of cycle training. This helps enable parents to buy quality second hand bikes in the right sizes for their children, so that they can complete the training. Watch our video of how Lambeth Bike Markets work in schools.
We also hold bike markets at special events such as at the Lambeth Country Show and on Car Free Day. Find out if there is a bike market happening soon.
If there is a Lambeth Bike Market near you – bring a bike you no longer use, it will be given a price and then a mechanic will look it over and ensure it is roadworthy before selling it on your behalf and giving you cash or a bank transfer. If you need a bike come and have a look at the range of quality, roadworthy second-hand bikes for sale at a great price.
Community projects
Lambeth works closely with community projects providers such as Pempeople and Cycle Training UK. We are always open to ideas of how to encourage more cycling from community groups.
Please email cycling@lambeth.gov.uk if you would like to make a proposal.
Find out more
For up to date information please follow us on Twitter, Facebook or subscribe to our monthly newsletter.