Read July's Lambeth talk
Midsummer in Lambeth and our magazine this month is celebrating in Brockwell park with the best ever Lambeth Country Show. Enjoy July across Lambeth with sports, arts and our fantastic discounts and offers for all our readers.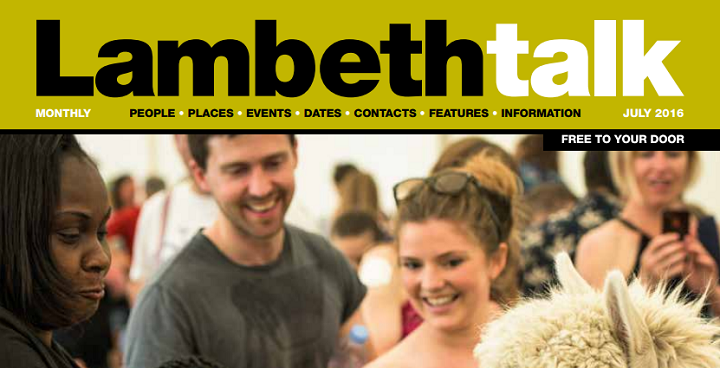 In Lambeth talk July
We celebrate the Ashden 2016 Sustainable Communities Award won by our partner social enterprise Repowering London (page 4)
The Lambeth Country Show is the only outdoor event in London and the whole of UK to achieve the highest possible certification from Julie's Bicycle Creative Industry Green for our efforts to embed environmental sustainability (page 9)
Match Point. This summer there is a tennis session for everyone older than…3 in Lambeth. Find tennis opportunities near you in 11 parks, 4 clubs and 1 leisure centre (page 10)
Good news for all sports fans this summer. A new outdoor space opens in Pop Brixton. Pop Fields with the biggest screen in south London and a partnership with the local brewery becomes the most fantastic place to go and watch all big sports events until the end of September (page 11)
Our Mayor Cllr Saleha Jaffer in her first interview for Lambeth talk is talking about the charity she supports, her favourite spot in Lambeth and shares with us her motto in life (page 14)
There is a playground for children and teenagers where you can play, learn, earn qualifications and make friends. Learn about Slade Gardens Adventure Playground (page 16)
We visited Sing4all a local choir of very talented 60+ singers and found out about the physical and psychological benefits of singing (page 17)
Every month our tenants and leaseholders get informed from the special Housing section they find in Lambeth talk (pages 18-19)
What's on in Lambeth in July? So many things, as always! First fix your bike because you will need it! There is music in all our parks, picnic in the gardens, theatre and bowls (page 20-21). Last, but not least, always check our special discounts and offers for our residents only (page 22).
Lambeth talk is one more reason to Love Lambeth!
Read Lambeth Talk July 2016 online
You might also like