Lights on in Waterloo railway arch
A dark and dingy railway arch in Waterloo is set to be illuminated with decorative lighting to make it safer and more visually appealing.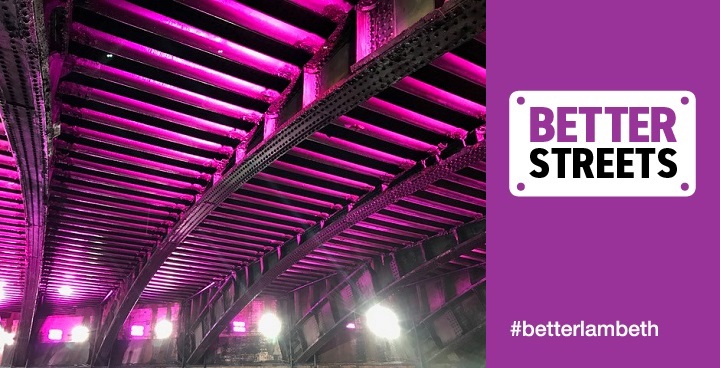 Lambeth Council has been working with local schools Oasis South Bank Academy, Oasis Johanna Primary and Morley College as a part of Lambeth's Westminster Bridge Road Regeneration Project to make the area better for the local community and visitors alike.
The decorative lighting scheme in the Westminster Bridge Road arch is the second such installation, following a similar lighting project in the Carlisle Lane arch in October last year. It aims to make the railway arch on the road a more attractive place, not only to travel through but also to visit, stop and admire.
Westminster Bridge Road was identified early on during public engagement as an area of Waterloo that needed to be improved for pedestrians and other users alike.  As a result of this feedback from local people and business, Lambeth has embarked on a number of public realm works in the area.
Switch-on event
The lights will be switched on at an open event at 6pm on Thursday January 18 outside Build Studios, 203 Westminster Bridge Road, SE1 7FR. Build Studios is located at the northern side of Westminster Bridge Road rail arch, underneath the Urbanest building.
The event will coincide with the start of London Lumiere, which for the first time travels across the river to the South Bank, where light installations will be displayed in the Leake Street tunnel nearby.
Word from the Cabinet
Cllr Jennifer Brathwaite, Cabinet Member for Environment and Housing, said: "We are really pleased to invite local people to the switch on event for this decorative lighting project that gives Westminster Bridge Road underpass a much needed uplift and characterisation that means something for the local community here.
"Artwork from local schools, Morley College and members of the public will be displayed under the bridge offering the community something that they can identify with and say that they played a part in making improvements to the area."
'Collaboration'
Ben Stephenson, CEO of We Are Waterloo Business Improvement District, said: "This project has been a good example of collaboration between businesses, schools and the council and the result has been really well received.
"The lighting scheme is sensitive to the impressive Victorian railway structures, enhancing rather than disguising it and the next step in long overdue improvements to the public realm here."
Multi-colour
The project combines multi-colour changing LED lamps with artwork from year 9 students at Oasis Academy South Bank and year 4 pupils at Joanna Primary that was then developed further in a workshop with Morley College students with the help of our artwork designers Make:Good.
The girders of Westminster Bridge Road will be lit up in colour, enhancing the beautiful Victorian architecture of the underpass and encouraging pedestrians to appreciate their form and structure where they might have previously gone un-noticed.
The colours are programmable and a calendar of special days and events will be developed to celebrate or commemorate local, national and international events.
Further to this, the facia panels on the Addington Street side will be lit up with colour, again completely programmable to illuminate in different colours.
Delivery of this project could not have been made possible without the support of local businesses – particularly Park Plaza as well as the project team made up of:
Michael Grubb Studio (lighting designers)
Make:Good (artwork designers)
Bouygues Energy Services (installers)
Architainment (light fittings)
Rosco (light fittings)
We Are Waterloo Business Improvement District
You might also like