First citizenship ceremony at re-opened Lambeth Town Hall
Lambeth Town Hall hosted its first citizenship ceremony on Friday January 12 following an 18-month refurbishment which has seen the historic Grade II listed building restored to its former glory.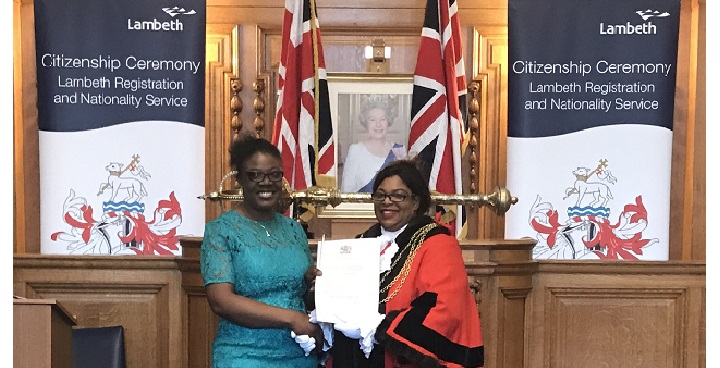 Lambeth Town Hall hosted its first citizenship ceremony on Friday Jan12 following an 18-month refurbishment
An honour to welcome new citizens
More than 50 people gathered in the Council Chamber at the group ceremony presided over by the Mayor of Lambeth, Cllr Marcia CameronCllr Cameron said to the new British citizens: "It's an honour for me to welcome our newest citizens to Lambeth. I hope that you all now go on to achieve your hopes, dreams and aspirations in this proud country."
Celebration of citizenship
The ceremony (which is for those whose application for British citizenship is approved by the Home Office) concluded with the national anthem in front of a portrait of the Queen and two Union flags. The event was an opportunity for applicants to celebrate their new citizenship and for the council to celebrate the borough's cultural diversity. It is hoped that the ceremonies encourage new citizens to play an active part in the community
Our new citizens said…
People who take part are presented their certificate of naturalisation which confirms they are now British. Among those who became citizens on Friday were Maureen Madrid and Laurencia Kwanga.
Maureen, 27, said: "I was quite nervous ahead of the ceremony, but happy at the same time. It has been a good experience today, the staff were really helpful. Lambeth is a great place and I love how close it is to everything
Laurencia, 39 (pictured above with Mayor Cameron), said: "From the beginning to the end it was a great ceremony. To see the Mayor of Lambeth was amazing for me too. Getting citizenship is really important to me, and comes at the end of a really long road. I now feel like the UK is my oyster."
Restoring the room
This was the first citizenship ceremony in the refurbished Council Chamber. Historic features from the start of the 20th century have been sympathetically restored. The town hall refurbishment is part of a wider project to reduce Lambeth council's core office buildings from 14 to two, saving at least £4.5m a year. It also includes the creation of 219 new homes for rent and sale, of which 47 per cent will be affordable.
For more information
For more on the regeneration of your new Town Hall and other developments in Brixton see the council's web pages.
You might also like