Ready Steady Go: free healthy lifestyle training course for parents and children
Sign up for Ready Steady Go, a completely free family lifestyle programme dedicated to helping children, parents and carers work together to achieve a healthier diet and a more active lifestyle.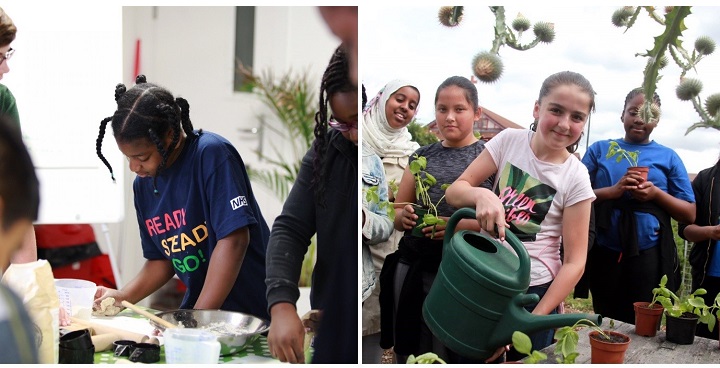 Ready Steady Go is a fun and interactive after school programme, aimed at families with children between the ages of 4-12 years who want to get down to their healthy weight. To be eligible for the programme, your child needs to live, go to school or be registered with a GP in Lambeth.
How long is the programme?
The programme runs for 10 – 12 weeks and each session is 2 hours in duration. This is made up of a family nutrition workshop followed by a group discussion for the adults and physical activity for the children.
What will we learn?
We cover nutritional topics including:
how to identify hidden Fats and Sugars
ways of increasing your Five a Day fruit and vegetable intake
how to read food labelling
help with fussy eating
appropriate portion sizes for adults and children.
Make your weekly supermarket shop healthier and cheaper
We visit a supermarket to look at a weekly shop and advise on how to help make it healthier and more affordable. Our aim is to help you and your family live happier, healthier lives for longer!
---
For more information
For children 4 – 6 years
Venue: St John's Angell Town Primary School 85 Angell Road, Brixton, SW9 7HH
Start Date: 8 May 2018 End date: 20 July 2018
Time and day: 5pm – 7pm every Thursday for 9 weeks & graduation
 For children aged 7 – 12 years
Venue: West Norwood Health & Leisure Centre, 25 Devane Way, West Norwood, SE27 0DF
Start Date: 23 April 2018 End Date: 20 July 2018
Time and day: 5pm – 7pm Every Monday for 11 weeks plus graduation
Venue: Living Space 1 Coral Street, Waterloo, SE1 7BE
Start date: 24th April 2018 end date 20th July 2018
Time and day 5pm – 7pm every Tuesday for 11 weeks plus a graduation
Contact
Ready Steady Go! Lambeth T: 020 7926 0619 E: email readysteadygo@lambeth.gov.uk
You might also like