Unity First to tackle youth crime
Unity First is an initiative from "fathers against crime" in Lambeth who can no longer stand by and watch youth crime escalate in our community. They're holding a debate on 24 August, Pop Brixton, to talk about questions and answers.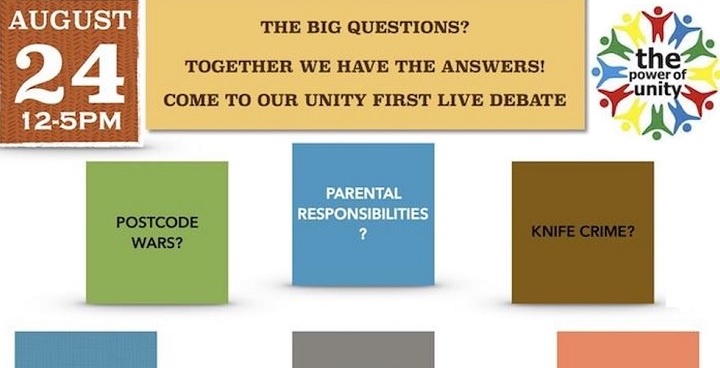 Every time we lose a young life, a new organisation is born, and local intervention work starts. At UNITY FIRST, working in collaboration with the Big Local North Brixton, we know that if we work locally but at the same time pool our efforts, we will make a bigger difference in making our communities safe and saving young lives.
Why work together?
Youth crime has no boundaries and quite often, it is the innocent intervening young person that dies. Are we already doing something? Of course – a great deal.  The shortfall is that we are doing it in isolation – in silos.  You can't compartmentalize crime. Crime devastates us all.
United front
In the long run, we need a united front, actively working on:
Preventative measures – identify and support those at risk of offending or joining gangs
Engaging the community to be active in seeking solutions and to support safer community initiatives
The impact of government and local authorities' legislation and strategies
Forming and engaging with constructive partnership for safer communities
Who's invited to talk?
Our first meeting builds on the findings from Big Local North Brixton. Participants will include schools, policy makers, local authorities, faith leaders, funders, community organisations/groups, local businesses, criminal justice, etc
Why UNITY FIRST?
We can do it together! Right now, just like before, we urgently need to address the root causes of youth crime in our communities. Children are dying, some are frightened, some exist only within the boundaries defined by gangs. Parents, especially mothers, are scared stiff that their children may not live beyond the age of 24.
Strategies to reduce youth crime have not always worked. Even where there has been positive change, a new wave of crime appears on the scene. Key players get frustrated with the lack of progress and joint efforts often disintegrate into individual attempts. We need unity! We should not feel defeated.
---
Join us to tackle the big questions
Postcode Wars  – Knife Crime – Feeling Excluded from Society -Youth on Youth Violence – Lacking Self Confidence -Training & Employment Prospects – Gangs –  Child Grooming – Parental Responsibilities
When:   Thursday 24 August 2017
Where:   Pop Brixton, 49 Brixton Road, SW9 8PQ  12-5pm
Find out more or reserve your free ticket at Eventbrite.
You might also like