WEEE love to recycle your electronic items!
Do you have any small electronic items you no longer use? Recycle them at the WEEE event in Brixton on 29 April.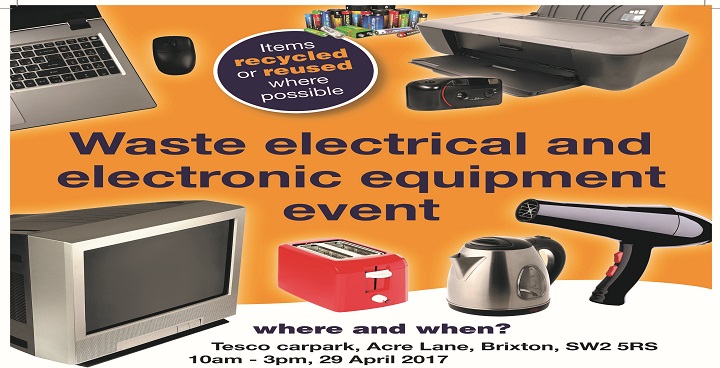 On 29 April 2017 Veolia, Lambeth's waste collection contractor, is holding a Waste Electrical and Electronic Equipment (WEEE) recycling event at Tesco, Acre Lane. This is a great chance for you to recycle any broken or unused small electronic items which may be lying around at home.
Why recycle electrical items?
Electronic waste is the fastest growing waste type in the UK, with roughly two million tonnes being thrown away each year. By recycling, we can salvage 98.5% of the materials used in these items, reducing the pressure placed on finite natural resources and also preventing harmful chemicals found within some electronics escaping into the environment.
What can I bring?
You can bring any small electrical appliances, either broken or in perfect working order, to the event. These items can include hair dryers, kettles, irons, TVs, computers and mobile phones.
Unfortunately, large items such as washing machine and fridges cannot be accepted, however you can take these to your local reuse and recycling centre located at Lambeth Reuse and Recycling Centre – Vale Street, West Norwood or Smugglers Way Household Waste and Recycling Centre.
What will happen to my waste electrical items?
Any broken or faulty items will be taken to a processing facility where they will be crushed, sorted by material and sent off to be reused in other products. This process recycles over 98.5% of materials from used electronic items!
Any working items will be donated to a local charity where they will be safety tested before being placed on sale.
Where and when is the event?
Can't make it to the event?
No worries! You can still recycle your broken electrical items at your local refuse and recycling centre at either Lambeth Reuse and Recycling Centre – Vale Street, West Norwood or Smugglers Way Household Waste and Recycling Centre.
Alternatively, any working items can be donated to a local charity. Please check before you go – not every charity shop is allowed to accept donations of electric/electronic items.
---
For more information about recycling in Lambeth, including what you can recycle from home, food waste, garden waste, collection days, recycling on estates, ordering replacement recycling bins, and Lambeth's waste and recycling centres, please see our  recycling from home guide.
You might also like