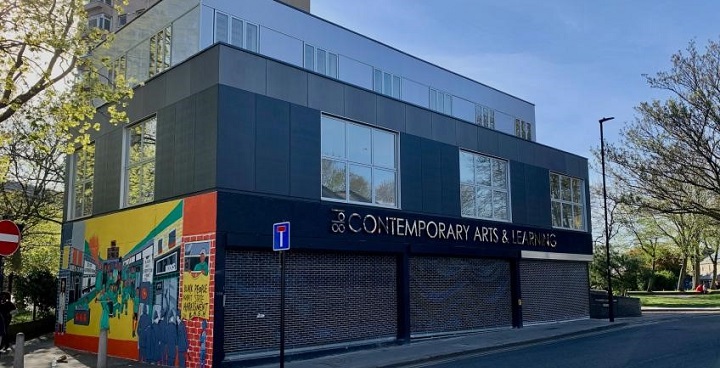 Crowdfund Lambeth has helped 198 Contemporary Arts & Learning (198CAL) complete an amazing new space where young artists come for education and employability in the arts and creative industries.
National and international impact
198 CAL have developed young artists, curators and creatives for over 30 years. They are a small organisation who have had national impact by pushing creative boundaries while giving voice and space to under-represented artists, communities and cultures – framed by the history of the Brixton uprisings they sprang from. In 2017, 6 of the 12 artists chosen for Venice Biennale's first diaspora pavilion had exhibited at 198.
Factory between floors
The dream of expanding the building to create an exciting and innovative arts centre across three floors was hit by the double whammy of Brexit raising costs and Covid-19 taking funding elsewhere – but construction was completed on time and budget. The second floor of the new building is dedicated to the Factory youth programme where young people with different backgrounds and abilities can develop careers in the arts and creative worlds, as well as being inspired by what's created in the workspaces on other floors.
Getting it ready
Artists and supporters picked up brushes and rollers to finish the gallery spaces, and a crowdfunding campaign took just a month and a day to meet the £5,000 target needed to get the new youth space ready to open. Crowdfund Lambeth contributed a pledge of £1,750.
More information
You can support Contemporary Arts & Learning's crowdfunder to help improve the furnishing and comfort of the space for young people.
Crowdfund Lambeth supports community projects making our borough a unique place to live, work, learn and do business. The project must demonstrate strong local support – shown through a vibrant crowdfunding campaign. To be considered for match-funding from Lambeth Council, projects must contribute to one or more of the borough plan priorities:
Sustainable growth: a growing economy that everyone benefits from.
Resilient communities: communities that are thriving and connected.
Promote care and independence: people supported to live well and independently.
Place: Make Lambeth a place people want to live, work and invest.