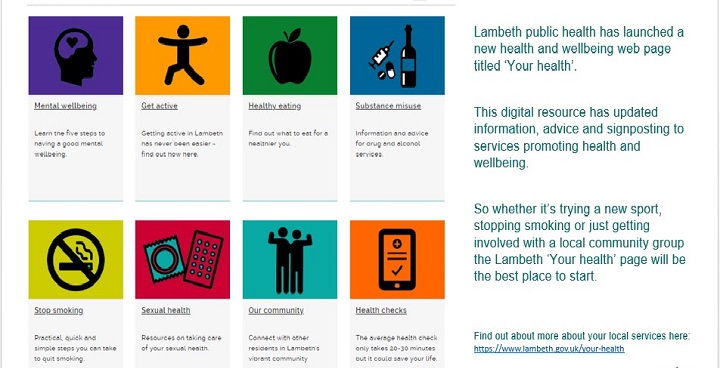 Lambeth's new 'your health' web pages bring together information about health and wellbeing including council health and wellbeing services and those provided by community and voluntary sector bodies, to create an up-to-date and comprehensive directory.
Best place to start
The resource has updated information, advice and signposting to promote health and wellbeing, including physical activity, healthier eating, and sexual health. So whether it's trying to quit smoking, cutting down on alcohol or just getting involved with a local community group in your area the Lambeth 'Your health' page will be the best place to start.
Updates
This website will be kept up to date and relevant to accurately reflect the wide range of activities and opportunities happening across the borough. These include:
Mental wellbeing – People with higher levels of wellbeing live longer, healthier, happier lives and are more resilient in hard times. However one in four people will suffer from poor mental health at some point.
Get active – Being active isn't just about going to the gym or competitive sport it can include activities that are part of our everyday life including walking, cycling, dancing and gardening: it all counts.
Healthy eating – The best information and advice on healthy eating so you can be confident in the food on your plate.
Stop smoking – We know you are four times more likely to stop with treatment than if you go it alone – helpfully there are lots of options available in Lambeth.
Sexual health – There are a range of resources, services and clinics available to you in Lambeth to enable you to take care of your sexual health – including DASH Lambeth – a specialist service for young people.
Community – Getting involved with our diverse local community is a great way to lead a happy, healthy and fulfilling life. Connect with local organisations such as Disability Advice Service Lambeth (DASL), Lambeth Youth Council and Age UK Lambeth
Health checks – diagnosing health problems as early as possible and encouraging those at a higher-risk to take action. If you are aged between 40-75 you could be eligible.
For more information
Visit Lambeth's Your Health pages