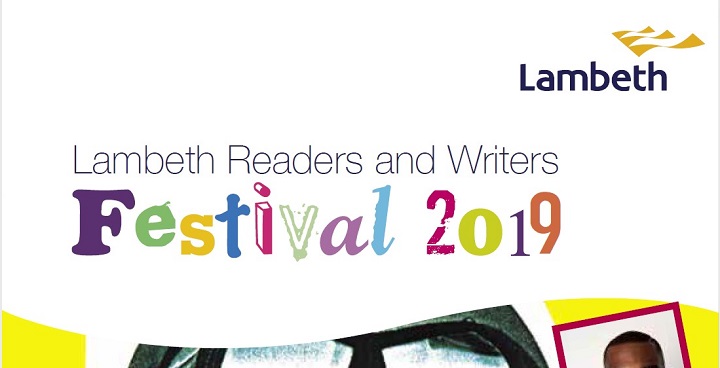 Word from the Cabinet
 "Since the first festival 15 years ago it has become a regular highlight in the calendar and goes from strength to strength. In 2019 we have events to suit all tastes whether you enjoy reading, writing, discussion or simply sitting back and listening. This year's highlights include award winning adult and children's authors, locally produced drama, poetry to listen to and engage with and music with a literary leaning and more… Come and join us and express yourself! You'll be amazed at the fun you can have in your local library." – Cllr Sonia Winifred, Cabinet Member for Equalities and Culture:
The programme includes
Author's talks, discussions and interactive events on a huge range of subjects in libraries all over Lambeth:
Five years ago, DeRay McKesson helped start Black Lives Matter. He's in the UK with new book On The Other Side Of Freedom. Monday 29 April Brixton
Brixton writers' night with Peter Lindley's autobiographical Please look after Billy, and Meredith MacArdle looking at book production. Wednesday 8 May Brixton
A History of Britain in 21 Women with BBC presenter Jenni Murray Monday 13 May Durning Library
Lambeth's Older Men Drama Project – new theatre performance on mental health and wellbeing. Tuesday 14 May Brixton/ Friday 17 West Norwood//Saturday 18 Streatham
Will Eaves (Murmur – A novel about Alan Turing) and Jennifer Hodgson (Ann Quin's The Unmapped Country) discuss writing queer lives. Wednesday 15 May, Brixton
Weronika Mliczewska award–winning Polish-born photographer, filmmaker and cultural anthropologist on Guatemala, Mexico and the Amazon Saturday 18 May, West Norwood
Peter Conradi's daringly open and original autobiography includes Anglo-Jewish life, sexuality and Buddhism. Monday 20 May, Tate South Lambeth
Menopause Reading Group discussing Allison Pearson's How Hard Can It Be? – a breakthrough humorous novel about menopause that resonates with many busy women Wednesday 29 May West Norwood
Common Ground – An evening of memories, experience and place devised by older people and youth theatre. Friday 31 May, Brixton. tickets info@sixteenfeet.co.uk
Queer Writing from Europe and the launch of the European Literature Network's magazine, The Queer Riveter. Brixton Thursday 6 June.
Readings from 'name to watch' Gemma Weekes Friday 7 June Clapham
'Buzziest book' of 2019 Queenie with Candice Carty-Williams Tuesday, 11 June Brixton.
The Poly Styrene Story lovingly pieced together by her daughter, singer/songwriter Celeste Bell, and writer/artist Zoë Howe. Wednesday 12 June Brixton
Arch Garrison in concert. Baroque chamber-folk from North Sea Radio Orchestra's Craig Fortnam and James Larcombe. Saturday 15 June, Clapham £8
More events
The festival also includes exhibitions open every day, events in Lambeth Libraries for young readers, and events to celebrate Windrush Day and the generation who came to London with it.
For more information