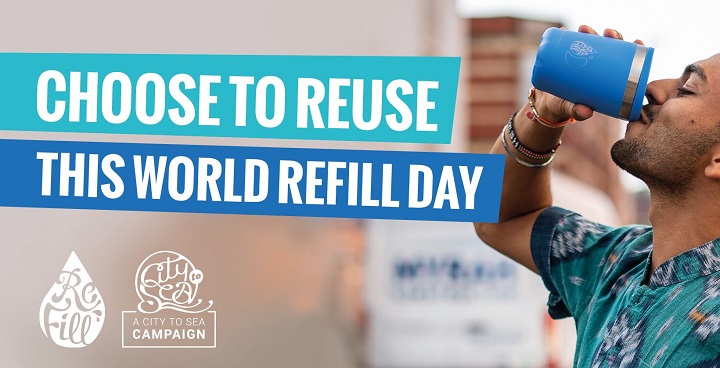 Lambeth's businesses have joined World Refill Day on June 16. Lambeth Council is committed to phasing out single use plastics wherever possible, and supports residents and businesses to do the same.
We have the power to create a wave of change
73% of UK adults believe plastic pollution is as bad, or worse, than pre-pandemic. For World Refill Day, thousands of UK individuals, community groups, municipalities, sustainable businesses and NGOs support small changes to everyday shopping, reducing single-use plastic. Within Lambeth's West Norwood and Tulse Hill Business Improvement District, more than 12 Refill Stations are already listed on the local Refill app. They offer not just drinking water refills (Covid regulations permitting), but also discounted hot drinks in reusable cups and zero-waste shops. Local Lambeth businesses helping people live without pointless single-use plastic include greengrocers, bakeries, a local delicatessen/restaurant and a bar/ kitchen: "We know customers care about the environment and we're very happy to provide refill and reuse options. The community are keen to protect the environment in all ways and we're proud to help.".
Word from the Cabinet
Cllr Dr. Mahamed Hashi, Lambeth Council Cabinet member for Sustainable Transport, Environment and Clean Air, said: "We're proud to see Lambeth's individuals and local businesses support World Refill Day. Following the successful campaign to reduce single-use plastic water bottles, we now hope to see people working together to see better options for food packaging and refillable cleaning products – all helping us to cut out single-use plastic from our everyday lives and stop plastic pollution at source."
Choose to re-use
A 45m long tall ship circumnavigating the UK on a first-of-its-kind study into plastic pollution will land in Glasgow to announce 'news so far' on World Refill Day.  92% of UK adults are concerned about plastic pollution and 81% want the UK government to focus on fighting pointless plastic pollution with laws to make refillable options in shops, supermarkets and cafes more widely available. This picks up on the message of City to Sea's award-winning Refill campaign and app, which connects people to places to eat, drink and shop without plastic packaging.
Refill, reuse and rewrite the future
Despite safety concerns about reusables, like coffee cups and food packaging, at the height of the pandemic, experts now say they are safe to use. It's time for a Refill Revolution – and World Refill Day is here to get it started.
More information