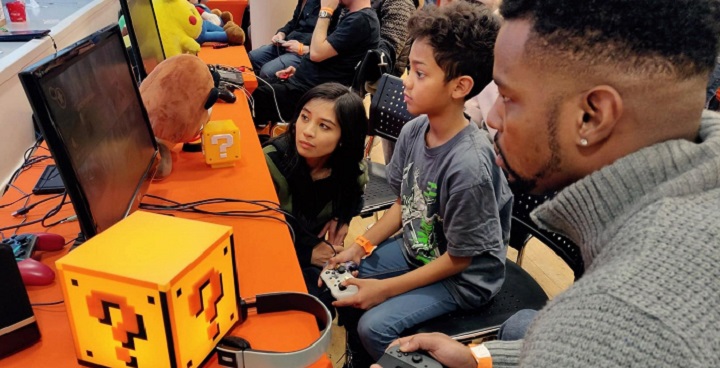 Lambeth Town Hall is hosting a gaming event that challenges the idea that gaming is an isolating hobby, getting people together to play each other on console classics and table-top games. The World Health Organisation's decision to classify gaming addiction as a mental health condition has raised familiar fears about the popular hobby, mayamada GamePad are celebrating the power of gaming to bring people together.
Gaming together
mayamada GamePad has been engaging people of all ages since 2015 with the positives of gaming together; community, breaking social barriers and promoting inclusion through a shared passion. Nigel Twumasi, mayamada co-founder, said:  "For a lot of young people, gaming is done online which can be physically isolating. We want people to experience the magic of gaming with friends and meeting new people in the same room at GamePad." The GamePad team believe Lambeth Town Hall on Saturday 28 September will be double the size of their last event – the biggest so far.
New games
Playing together doesn't mean things don't get competitive. Experienced and casual gamers alike will get a chance to play with, or against each other on new games including Super Mario Maker 2, Crash Team Racing, Under Night In-Birth and favourites like Super Smash Bros Ultimate, FIFA and Just Dance.
Indie games
Indie game developers will also showcase their latest games to mayamada's friendly community, giving a platform to other creators and growing awareness of games as a social experience.
The day also includes tabletop gaming, cosplay competitions, and the chance to donate your pre-loved games to children's charity, Get Well Gamers and have them sent to children and young people in hospitals across the country.
For more information
Founded in London, mayamada is a creative manga brand set within an imaginative universe of amazing characters. See more about them and book tickets
Follow them on Facebook: Instagram: @mayamadatees or Twitter: