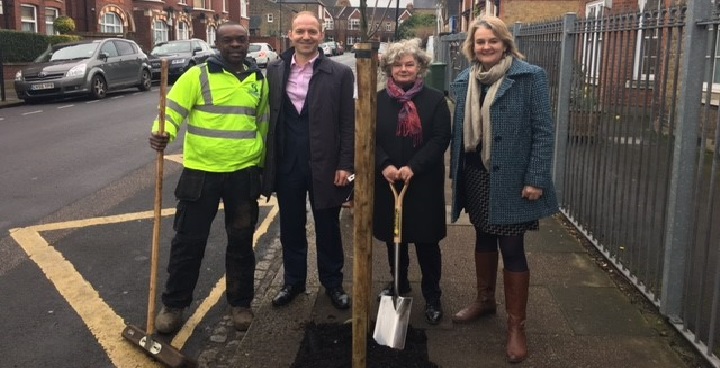 Our Streets
Lambeth Council has been working with residents across four wards in the borough to implement improvements to their neighbourhoods as part of the next phase of our Neighbourhood Enhancement Programme – Our Streets.  A wide-reaching engagement process begun back in 2015, with residents of the Streatham Wells, Streatham South, Thornton and St Leonards wards providing valuable information about positive changes that they'd like to see on their streets.
By making use of funding received from Transport for London, as well as Section 106 development funds earmarked for these areas, the Our Streets programme has been gathering momentum with improvements such as traffic calming works, anti-fly tipping measures and road crossing improvements either scheduled or carried out in the four wards.
Improving air quality
With improving air quality in Lambeth a priority, tree planting has been prioritised in the programme and starting in March, around 250 new trees and saplings will be planted across the four wards.  These trees will help to filter the air and reduce the noise impact from traffic whilst also promoting biodiversity in the area.
City Suburban will be planting the trees on behalf of Lambeth Council, and careful consideration has been given to the types of trees that are to be planted, and their locations, to ensure that the new trees will blend in well with the surrounding area. Once the trees have been planted, City Suburban will continue to maintain them for the next few years until they've settled in.
Alongside City Surburban's work, Father Nature – a Lambeth-based social enterprise – will be building and filling planters around the borough with flowering shrubs and plants to help brighten the environment and add to the streetscape to prevent fly tipping.
Find out more
You can find out more information about the 'Our Streets' programme, as well as information around the schemes that are being delivered in these wards, on the Our Streets section of the council's website.