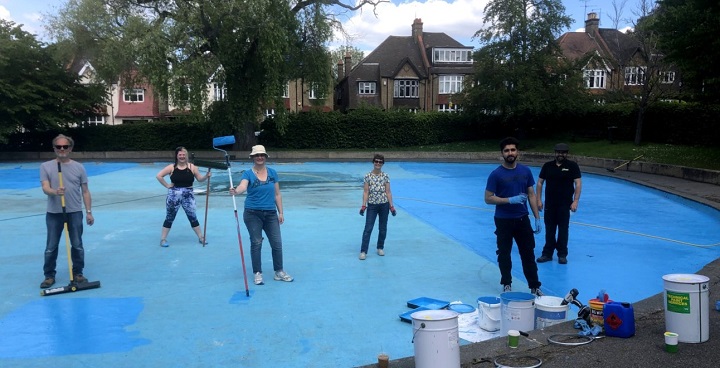 Last year, Covid-19 made it impossible to open Streatham Common's Paddling Pool – but this year it's different. SCCoop agree with the 90% of Streatham's community who say it's important that the paddling pool stays open, and free for local people. By 23 May, 273 supporters had proved it, with £1,000s in pledges and dozens of offers of volunteers. They raised £10,691 in 42 days.
Public support
The Paddling Pool would have closed in 2016 without funding from The John Horseman Trust and continued public support, following 50% cuts to Lambeth Council's parks budgets. SCCoop have run crowdfunding campaigns every other year, and to fund and open the pool for summer 2021 needed help to reach their target of £5,000.
Open for summer 2021
The pool opened at the beginning of June and has been really popular during the recent hot weather. It's providing part-time employment for three local young people all summer. Richard from SCCoop says: "Fantastic to see families with young children relaxing by the pool during. This is a lovely place for families to enjoy a picnic, an exciting special day out – and – as we see from comments on the crowdfunding page – memories to last a lifetime. All money raised helps keep the pool open into the future and Lambeth's contribution ensures that funding lasts even longer"
Contingency planning
The Paddling Pool already has some extra repair bills, so the extra crowdfunding  will ensure contingency funds for those and any unexpected repairs, or rolled forward for next year.
More information
To donate to save Streatham Common Paddling Pool see their crowdfunder pages
Crowdfund Lambeth is a platform to support community projects making our borough a unique place to live, work, learn and do business. The project must demonstrate strong local support shown through a vibrant crowdfunding campaign. To be considered for match-funding from Lambeth Council, the project must also meet some simple criteria and contribute to one or more of the borough plan priorities:
Sustainable growth: a growing economy that everyone benefits from.
Resilient communities: communities that are thriving and connected.
Promote care and independence: people have support to live well and independently.
Place: Make Lambeth a place people want to live, work and invest.
To find out if your project or initiative is eligible for match-funding see our criteria and apply online