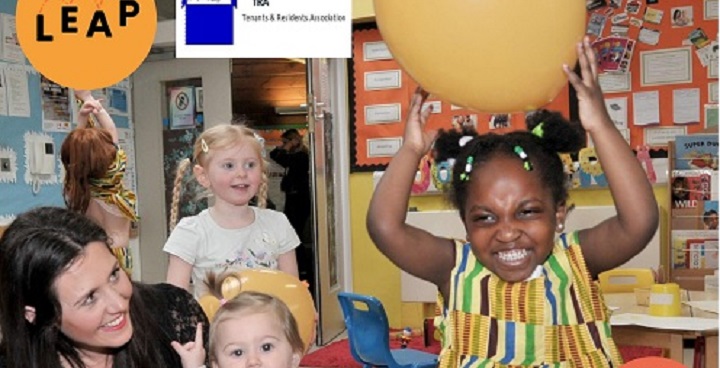 Lambeth Early Action Partnership (LEAP) have embarked on a major rebuilding and refurbishment programme of children's early years buildings in Lambeth, with £4million from The National Lottery Community Fund.
Mursell Hall re-opens
Stockwell's Mursell Community Hall has its grand re-opening on 21 Feb with a free day for families: face painting, gardening, crafts, a healthy eating lunch; fun fitness, closing with a family party with DJ. Refurbishment work done last Autumn includes new kitchen and toilets and improved lighting, as well as bringing back to life the original parquet flooring – funded through Lambeth Council.
Warm and welcome
Laura McFarlane, LEAP director, said: "It's fantastic to complete the work here at Mursell and we look forward to working with Mursell TRA to provide services for local families and young children. The rebuild will provide a warm and welcome new space for families to meet and engage with the LEAP programme."
Ideas for future activities
Marta Sordyl of Stockwell Partnership said: "LEAP plan to work in close partnership with local parents and community groups. We're meeting in early April to discuss local strengths and concerns and generate ideas for future activities in the community hall."
Word from the Cabinet
Deputy Leader of Lambeth Council Cllr, Jennifer Brathwaite said "We value our early years' services and the investment through the Lambeth Early Action Partnership into the areas of Lambeth that need it the most is really welcome. This re-opened building will help local families in Stockwell to access services that support them and is part of our commitment to giving every child in Lambeth the best start in life."
LEAP Capital Project
The LEAP Capital Project has been developed in partnership with Lambeth Council and the National Children's Bureau (NCB) and. The project includes developments on Lambeth estates, children's centres, and One O'clock Clubs, all expected to complete in Spring 2019:
• The Mulberry Centre
• Cowley Early years Hub
• Tulse Hill Early Years Hub
• Brockwell One O'clock Club
• Max Roach One O'clock Club
• Mursell Early Years Hub
• Loughborough Estate Early Years Hub
• Jubilee Children's Centre
• Loughborough Children's Centre
• St Stephens Children's Centre
• Liz Atkinson Children's Centre
For more information
• For more information about LEAP
• For more information about the NCB
• For more information about the National Lottery Community Fund
• For details of booking Mursell Hall