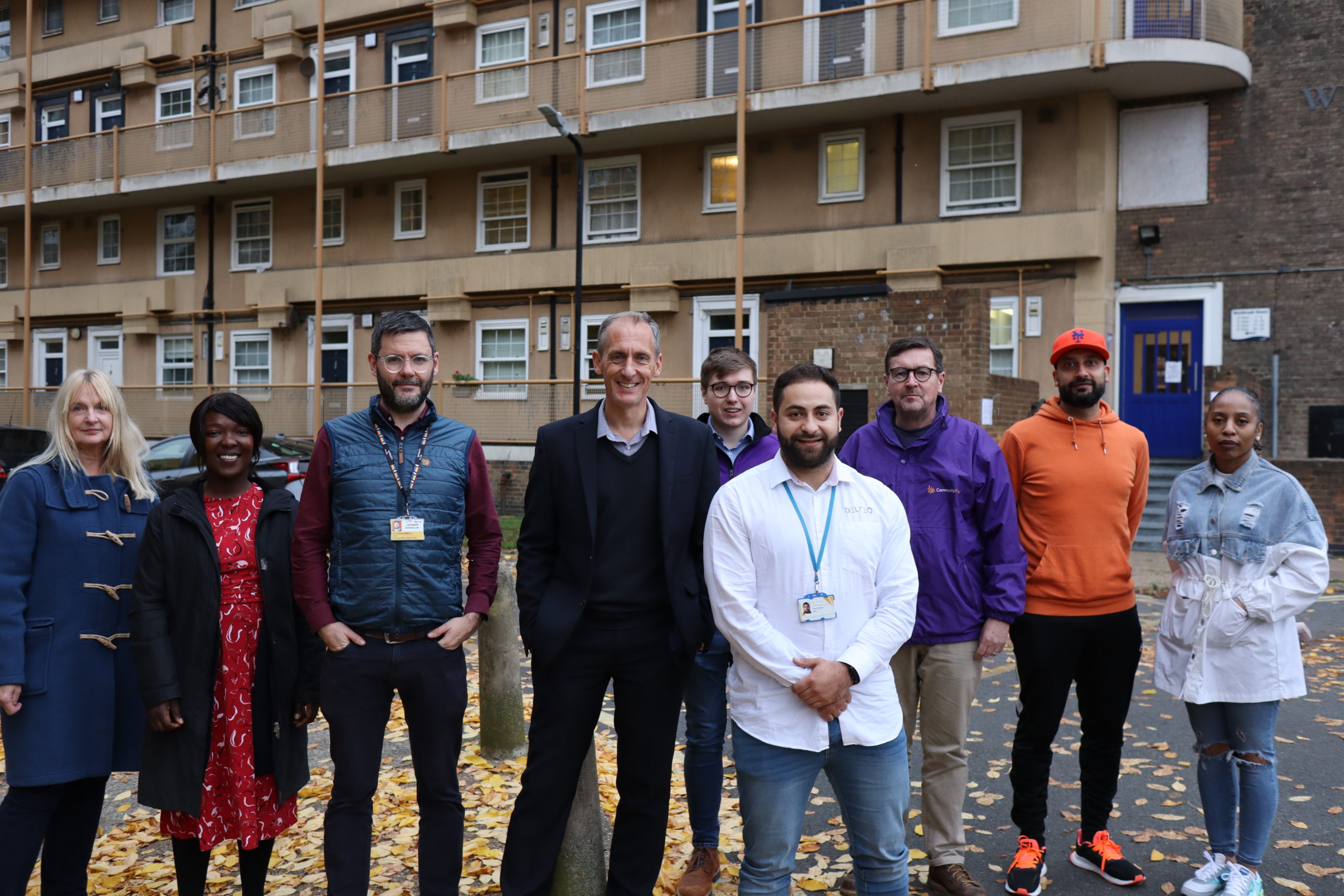 In just 6 months, over 6,000 new fibre optic connections have been installed across 22 council estates as part of the council's new estate fibre programme. Once complete, 34,000 council homes and community spaces will be connected to fibre optic broadband, so no one is locked out of online opportunities by a poor connection.
Working with broadband providers to get the job done
To get homes connected, the council has signed access agreements with broadband providers Community Fibre, Hyperoptic, Virgin Media and Openreach allowing them to install fibre optic broadband connections to all Lambeth-owned residential properties. An agreement with another provider, G.Network, is expected soon.  Fibre optic cables are wired up to the threshold of every home, so it's quick and easy to install whenever residents are ready. Only those who decide to buy an internet package will have to pay as the providers are responsible for the costs of installing and maintaining their network.
The initiative is part of the council's £17million Digital Strategy, which will open up digital access, connect homes and businesses, improve council services and boost Lambeth's digital economy over the next 5 years.
Championing digital access for all our residents
Speaking during a visit to Notre Dame estate in Clapham, where 360 homes were recently connected by Community Fibre, Councillor Andy Wilson, Cabinet Member for Finance and Performance said:
"We believe every home in Lambeth should have access to affordable, stable and quick internet. Sadly, estates have often been left behind as fibre-optic connections were installed elsewhere, so I'm delighted our partnership with providers is opening up digital access for all at a time when our reliance on the internet for work, study and play is increasing rapidly.
The scale of the programme means this is a great jobs and skills opportunity for Lambeth too, which is why we're working with the providers to offer local apprenticeships and other roles"
Councillor Maria Kay, Cabinet Member for Housing, said:
"Our estates are home to people from all walks of life, but the need for good internet access is universal. Whether you're bringing up a young family, a student, or a retiree the digital world has something to offer. That might mean tuning in to online lectures, booking an appointment with your GP, connecting with family overseas or doing a virtual job interview. None of that's possible if your connection is slow or cuts in and out, so the Estate Fibre programme is a real step forward for our residents."
Lightspeed connections
Full fibre optic connections don't use copper telephone cables, instead, they send data at light-speed directly to your home, providing the fastest internet speeds available – enough to download a full-length, high-definition film in less than two minutes.
Residents already connected to broadband won't have to change suppliers but will get better access to packages that suit their needs and budget whenever they do want to renew contracts. Those who want a broadband connection for the first time will have choices with fast speeds but, no one has to sign up for any broadband service if they don't want it
The council is focusing on areas that don't yet have high-speed broadband at the start of the installation programme, which will last two to four years. We're working with all the broadband providers to minimise disruption to residents and avoid unnecessary digging and other duplication. This includes working with TRAs and communicating to keep residents informed.
During the rollout process, the broadband providers will write to residents to explain the sign-up process, keep local councillors updated about planned works, and liaise with TRAs to share their rollout plans.