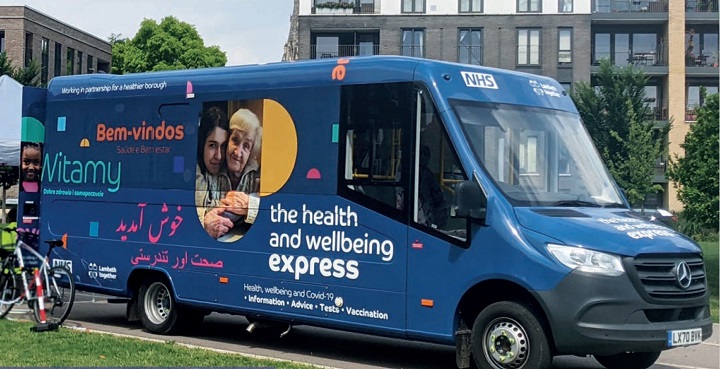 This is the first health-themed maths week hosted by the team on board the specially adapted Health and Wellbeing bus in different parts of Lambeth.
The four-day programme will provide different activities across four days so residents can improve their maths skills and understand the link between numeracy and healthy lifestyles.
The first event at Myatts Field Pantry on Tuesday will provide the opportunity to check blood pressure, heart rate, and body temperature with an explanation of how improving numeracy skills can lead to a better understanding of residents' own health.
The team will set a series of maths puzzles and problem solving challenges for residents, who can win a £10 Amazon voucher.
Other sessions will look at the link between numeracy and healthy eating by looking at how residents can calculate the sugar content of their food and other measurements for a healthy diet.
Maths week activities include:
Tuesday December 6 – the Maths around measurements at Myatts Field Pantry.
Wednesday December 7 – the Maths around measurements at Windrush Square.
Thursday December 8 – Maths puzzles with the adult learning team at 388 Streatham High Road.
Friday December 9 – Food numbers in health at Stockwell Green Mosque.
The Lambeth Health and Wellbeing Bus was introduced in Summer 2021 to reach residents across the borough in the wake of the Covid-19 pandemic.
This is the first collaboration between the Adult Learning team and the bus, with further events planned in the new year.
Cllr Jacqui Dyer, deputy leader and cabinet member for Inclusive Economy and Equalities, said: "There is an established link between improving numeracy skills and better health outcomes.
"This can mean a better understanding of measurements used in healthcare or improved problem-solving skills that can aid peoples' mental health.
"I am delighted that the adult learning service is collaborating with the Health and Wellbeing Bus to delivery these vital workshops around the borough."
The maths week activities take place from Tuesday December 6 until Friday December 9, sessions run from 10am until 4pm.