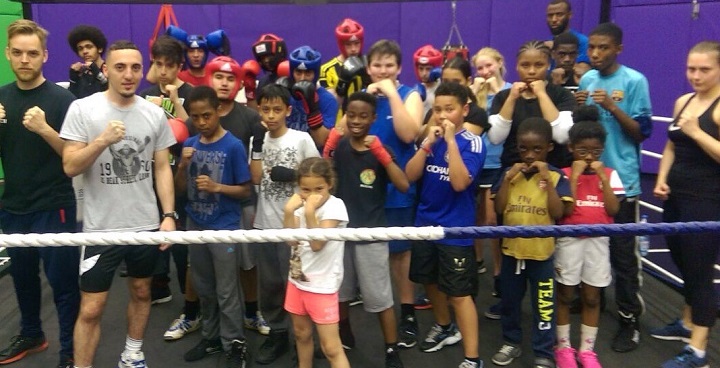 "Steadman Scott has lived in the area for 45 years. In 1997 he and Tony Goldring set up Afewee to provide football training sessions for Lambeth youth. We still deliver those, with young people going on to do great things.
Focus and discipline
"In 2011, after the riots, he decided to add boxing training. Brixton had a long-time reputation for violence and kids with no direction. The idea was to channel and refocus that aggression with something that needs a huge amount of focus and discipline. The first sessions at Brixton Rec were almost empty, but every week the sessions got busier with more adults coming through the door as well as young people, more volunteers like me. In 2015 we got funding to be an official boxing club and could offer a mobile boxing gym three times a week.
Catalyst
"When Nyesco, our first boxer to box for the club, won in October 2015, it was a historic moment, like our own world title fight. That was a catapult for so many things. By December we had our first junior boxers (under 14) and first female boxers.
Setting up home
"The intention was always to have a permanent home. Lambeth Council supported us to work with their fitness centre partners GLL and in May 2017 we opened a permanent boxing gym. Our offer now includes boxfit exercise training – not for combat but for fitness. 90% of the people who come down will never box competitively, but the vision remains the same. It's a way into self-discipline, and we coach them to be the best they can be.
The right path
"Now we've got established, we just want to go on delivering. One 15 year old, Joel Joseph, arrived with no idea what we wanted to do in life, got excluded from school – but in 2017 became our first ever national champion. We have a seriously good 14-year old female boxer who could be our next national champion. We're now self-funding through membership and we can say 'we've got the ropes, the gloves – just come down'.
We're here for you
"A lot of people ask about the name Afewee. It's a Jamaican saying, 'For us', and that's our message to the community – we're here for you."
---
For more information