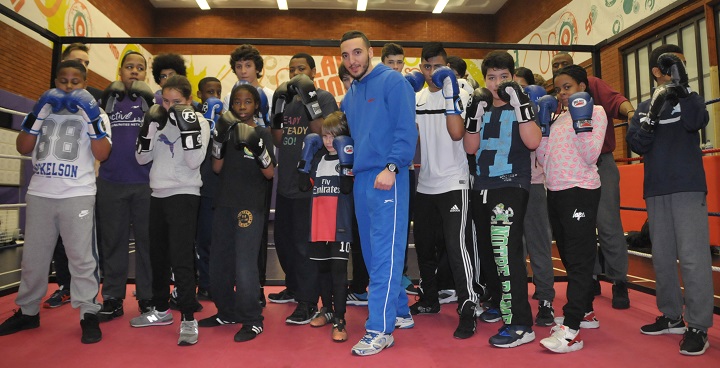 Building on the success of their football coaching – the club has seen 30 graduates sign professional contracts and one senior England international in Nathaniel Clyne – Afewee now aims to produce world class boxers.
By instilling into young boys and girls of the area discipline, passion, self-believe and willingness to work hard, Afewee is equipping young people with the tools to succeed in life whatever their chosen profession.
Afewee's founder Steadman Scott decided to begin a boxing project in the Recreation Centre, conscious that Brixton lacked a community-run and community-focussed boxing facility. The project was launched in April 2014 and by the following February, whilst still operating on a sessional basis in a generic, shared space within Brixton Recreation Centre, the club had equipped itself with a collapsible ring and bags, affiliated with the national governing body – England Boxing – and was delivering three Junior club sessions, two Senior club sessions and two BoxFit sessions per week. In October 2015, a boxer from the club took part in a competitive bout for the first time and 2 months later the first female represented the club. In the first year as a club, two Afewee juniors won prestigious scholarships into full-time secondary educational establishments.
In December last year, Lambeth Council and GLL, Brixton recreation Centre's operators, agreed to house the boxing club on a permanent basis within the Rec in recognition of what had been achieved in so short a time. A room that has been used as a storage space for many years is to be refurbished to house the club. The refurbishment required is extensive, and Afewee has been tasked with raising £30,000 towards the total project costs of £60,000.
A fundraising page has been set up and various events are being planned to secure the funding. To learn more, and offer your help, visit the Just Giving website.