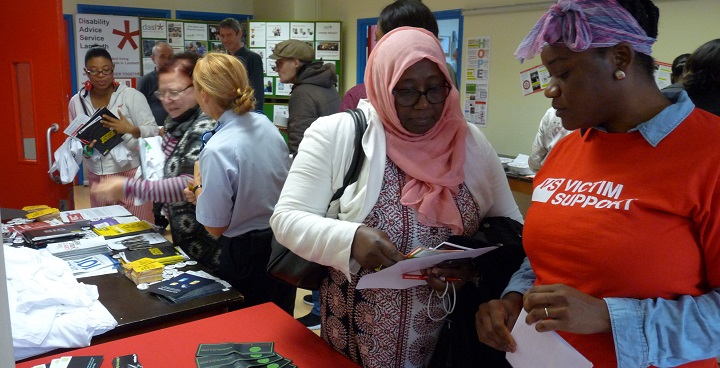 National Hate Crime Awareness Week is a yearly event which aims to get local authorities, the police, and communities standing together alongside those affected by hate crime.
One of the focal points of the campaign in the borough this year was the Lambeth Disability Hate Crime Partnership (LDHCP) Housing and Hate Crime against Disabled People event, which was hosted at 336, Brixton Road.
Lambeth has some of the highest levels of reported disability hate crime in London, and the LDHCP has worked hard to give the borough's disabled people the faith their voices will be heard when they report hate crime.
Housing and Hate Crime against Disabled People
The event aimed to help people understand how disability hate crime can sometimes be misunderstood as anti-social behaviour, and gave residents the opportunity to meet Lambeth staff working to keep them safe.
Daryl Edmunds, Lambeth's Interim Public Protection Operations Manager, gave a presentation on the importance of reporting hate crime and anti-social behaviour, as well as the ways in which the council supports vulnerable victims.
He was joined by Dr Simon Sandberg, Project Manager at Lambeth Housing, who discussed the challenges facing Lambeth's Housing team, and outlined how Lambeth is revamping home adaptions, as well as looking to engage with disabled tenants more effectively.
Both speakers also took part in facilitated workshop sessions with attendees, as well as a Q&A panel discussion alongside the representatives from the police, Victim Support, and Disability Advice Service Lambeth (DASL).
Questions raised
Questions raised focused on how people can get support to report hate crimes, particularly those who are deaf or have English as a second language, or who have learning difficulties. They also questioned why the council's hate crime blog was out of date, something that is currently being addressed.
As well as offering an opportunity for questions, the event also saw the launch of the Policy LDHCP Forum Report, which makes a number of recommendations for the council to improve support forLambeth's disable d people.
---
The next meeting of the LDHCP on the 14 November, these recommendations will be on the agenda of the council staff attending, and maintaining this partnership will ensure this vital issue stays remains a priority.