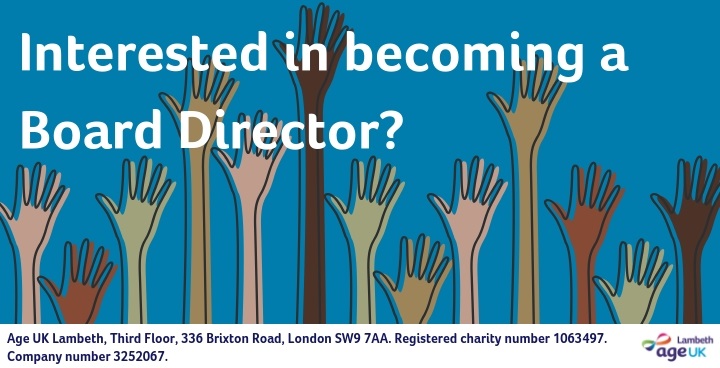 Age UK Lambeth wants up to four new volunteer Directors to join its Board. We're looking for people whose different life experiences will help make the Board as diverse as Lambeth's community.
Why join Age UK Lambeth?
Age UK Lambeth has been in Lambeth for over 60 years and is the leading local charity supporting older people to lead more fulfilled and independent lives. The Board's mission includes agreeing the charity's direction: challenging the stigma of ageing, reducing social isolation and ensuring people get the right support at the right time. Age UK's services include handypersons and 'Mysocial' to overcome loneliness. The team is 26 staff and over 120 volunteers. The Board Directors will be unpaid volunteers.
Who can apply as a Board Director?
We're looking for people who:
Support Age UK Lambeth's aims to help over 55s get as much from life as possible.
Are willing and able to meet the time commitment of 4 or 5 Board meetings a year, (usually in Brixton and outside office hours), plus reading papers and considering the issues put before the Board, as well as contributing to time-limited projects.
Can form your own opinions and speak your mind
Can work effectively as part of a team
Can think creatively
IT-literate to do web searches and write emails
No previous Board level or committee experience is necessary. You will be valued for the outside experience you bring.
Local knowledge and an understanding of the Lambeth community desirable.
More information
Find more about the role and an application form via our volunteer page We expect to be interviewing soon, so please apply as soon as possible (by the end of September).
We are part of the national network of Age UKs, but we're an independent local charity responsible for securing our own finances to achieve our own mission.