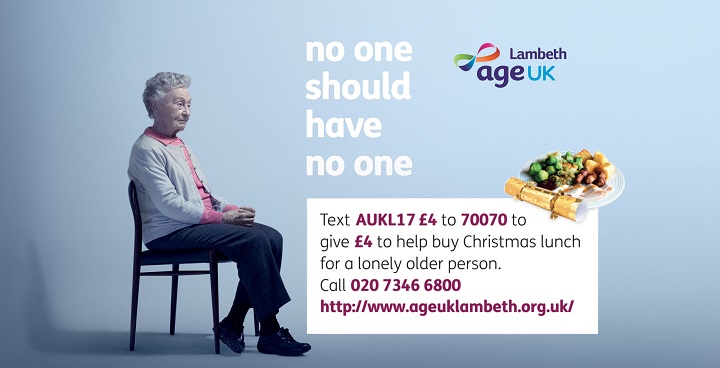 Age UK Lambeth needs your support again to provide Christmas Dinners for isolated older people.
Social event at Vida's
On 25 December Age UK Lambeth volunteers will cook turkey with all the trimmings and provide gifts and entertainment for 40 of the most socially isolated older people in Lambeth at our community hub, Vida's. We'll also provide 20 meals for those who prefer to be at home. We need your help to make it happen.
Isolation
Christmas can be tough on older people: it's dark early, the weather makes people worried to go out, and you can feel especially isolated without family nearby. Half a million older people across the UK will spend Christmas Day 2017 alone.
200,000 older people haven't had a conversation with friends or family for a month.
3.9 million agree TV is their main company.
Loneliness can be as harmful for our health as smoking 15 cigarettes a day.
How you can help
Make a donation – as much as you like – via Justgiving to 'No-one should have no-one'
Text AUKL17 £4 to 70070 to donate £4.
Your business can sponsor Christmas dinners.
Volunteer your time
Word from the Council
Cllr Jackie Meldrum, Cabinet Member for Adult Social Care, said:
"If anyone is interested in helping out I'd strongly urge them to get in touch with Age UK Lambeth. Last year Age UK Lambeth did a fabulous Christmas dinner, actually on Christmas Day itself, which is what people living alone really want."

"This seasonal push supports our year round efforts to support older people and ongoing schemes including the Lambeth-wide befriending scheme."
---
For more information
Someone to invite?
If you know a senior citizen living in Lambeth who'll be alone on Christmas Day and want them to be part of a sociable Christmas Dinner, please call 020 7346 6800 or email info@ageuklambeth.org.uk
About Age UK Lambeth
Age UK Lambeth is a local independent charity that supports older people across Lambeth with services to help people stay as independent and active as possible.  We want to ensure that the second half of their life is as enjoyable as the first, and we rely on the generosity of the local community and businesses in order to provide our services.