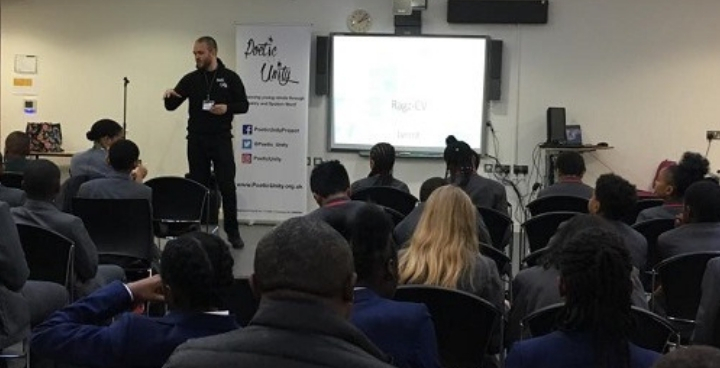 Lambeth Schools Partnership, along with Lambeth primary and secondary schools, welcomed over 660 Black Caribbean pupils to our Aim High sessions. Aim High's fundamental purpose was to raise aspirations through exposing our pupils to inspirational and highly-successful black individuals from a range of professional and academic backgrounds.
We welcomed pupils ranging from year six to year nine from 34 Lambeth schools to 14 events which took place at Lambeth Town Hall, Brixton and Lambeth College, Clapham every day from Monday 8th October to Friday 12th October.
We received 26 volunteer motivational speakers, including: barristers, a robotics engineer, politicians, historians, a tech CEO, consultants, professional mentors, an architect, local lyricists, educational professionals and more!
Challenges and inspiration
Our pupils had the opportunity to hear about these motivational individuals' personal, academic and professional journeys and asked many profound and challenging questions. One pupil, reflecting on the session they attended said they were 'inspired to be more open to everything' and another stated that they had 'learnt that if you have been challenged and you fail it can always turn out to be a success'. One of the key messages which emerged from the majority of the speakers' presentations was the importance of perseverance, self-confidence, hard work and ambition. One pupil commented: 'The thing that has inspired me is that your race, gender and financial background do not keep you from pursuing and following your dreams. There are no limits.'
Reasons for being remarkable
One of the activities at Aim High saw pupils write down reasons they were remarkable which they then shared with others in the session. Some of their reasons for being remarkable were: 'my words encourage others', 'I am unique', 'I am dedicated', 'I'm smart', 'I'm kind' and 'I make people laugh'.
Word from the Cabinet
Councillor Jenny Brathwaite, Deputy Leader of the Council, spoke at three Aim High sessions and reflected: 'I was delighted to take part in last week's events, and to see hundreds of Lambeth school children be inspired by positive role models and speakers. Speaking to so many Lambeth pupils about their ambitions was as inspirational as the listening to speakers from a wide range of backgrounds and organisations, including the Black Cultural Archives and Brixton Soup Kitchen. In Lambeth, we're determined to tackle the achievement gap that Black Caribbean pupils face and these events are an important part of our Aim High programme to do just that.'
Raising the Game
Aim High was part of a larger two-year project called Raising the Game: Achievement of Black Caribbean Pupils in Lambeth. This group of pupils have been identified as achieving less well than their peers nationally and in Lambeth we want to tackle this in a creative and holistic way. Our project includes initiatives including head teacher coaching, diversifying our curriculum to better reflect the borough's (and indeed London's) community, early years parental engagement activities and other Aim High events in future.
For more information
Watch a great video about a recent Aim High event held at Lambeth Town Hall: