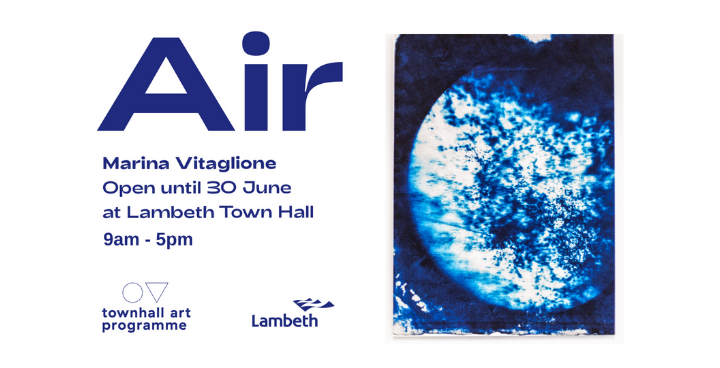 Lambeth's Town Hall Arts Programme welcomed a new art exhibition focusing on the effects of air pollution across London.
Artist Marina Vitaglione (pictured right) has created a series of striking images to provide a visual representation of the pollution in the capital as part of the 'Air' exhibition at the town hall.
Ms Vitaglione worked with scientists at the London Air Quality Network to use real-world data from London's pollution hotspots to produce the prints.
She said: "Climate change is not something that is tangible or visible, so I think it is important to find new ways to show it. Air pollution is now the biggest environmental risk of early death worldwide.
"My aim with this series was to make it visible by creating images of toxic fine particles, and in doing so to raise awareness on the topic and generate positive social change at an individual and wider societal level.
"That is why I am particularly excited for the images to be exhibited at Lambeth Town Hall, where they will be seen by local politicians working directly with programmes to reduce air pollution levels within Lambeth and greater London."
Ms Vitaglione used the scientific data from monitoring stations to gauge the levels of Carbon Dioxide, Nitrogen Dioxide, Ozone, and Sulphur Dioxide in the air.
Some samples were impressed upon tape, using a Beta Attenuation Monitoring device, and then photographed through a microscope. Others were enlarged digitally through Raman Spectroscopy.
The resulting images are cyanotype prints created by a process that involves the use of natural sunlight to reveal the final image through coating paper with a photosensitive emulsion.
Ms Vitaglione has printed the artwork on paper made from responsibly sourced 90% bamboo fibre and 10% cotton for the exhibition.
Improving air quality across the borough to benefit peoples' health is a key priority for Lambeth Council. The council has already introduced traffic-free streets as well as committed to encouraging fewer journeys by motor vehicle and upgrading walking and cycling routes.
In December 2021 the council released its Air Quality Vision report that adopted World Health Organisation's strict air quality targets, which go further than those accepted by other local authorities and the UK government.
Later this year, the council will publish its Air Quality Action Plan 2023-2025, which will be a framework for all council policy around air quality and pollution.
Cllr Sonia Winifred, Cabinet Member for Equalities and Culture, said: "In Lambeth, we are committed to working with the local community and health professionals to improve air quality for everyone in the borough. 
"Marina's strikingly beautiful prints are a visual representation of the air pollution within our environment, helping to draw attention to this issue and the need to improve air quality in our city."
The AIR exhibition will run at Lambeth Town Hall, Until June 30, 2022. 9am – 5pm. Entry is free. The Lambeth Town Hall is located at 1 Brixton Hill, SW2 1RW. Access is dependent on the latest Covid-19 restrictions.