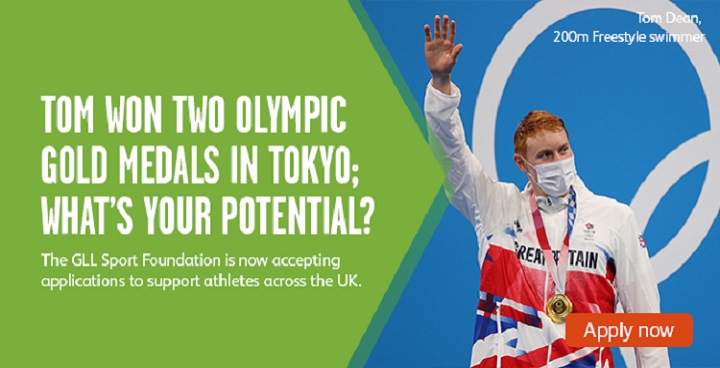 There's only a couple of weeks left for Lambeth Athletes to apply for help and funding from the GLL programme. Applications via the online portal close on 20 Feb 2022. In many cases it's the only source of funding  gifted and talented athletes have. It helps all Olympic, Paralympic, Deaf and Special Olympic sports.
Developing local talent
Lambeth's health and Leisure Centre partners GLL – the UK's largest leisure charitable social enterprise – has once again shown its commitment to health, wellbeing and opportunity, supporting the next generation of athletes to the tune of £1.2 million, via The GLL Sport Foundation (GSF).
The foundation provides athletes across the UK with financial help, physiotherapy, a 'Better' Gym membership and more.  In the wake of a difficult two years, GLL continued with the programme in 2020 and 2021, investing in the development of local talent aspiring to follow previous supported athletes such as Susie Rodgers, Dina Asher-Smith and Lutalo Muhammad.
Funding Olympic, Paralympic, Deaf and Special Olympic sports
The programme supports athletes across all Olympic, Paralympic, Deaf and Special Olympic sports. Last year, the GLL Sport Foundation in partnership with Lambeth Council Gifted and Talented scheme supported 89 local athletes including Olympic Weightlifter, Forrester Osei and national/regional Sprinter, Kristal Awuah. Of the athletes supported, 63% were aged under 21 and 96% of the athletes supported do not receive any other funding.
Training, gaining and driving success 
Ultimate Frisbee athlete Josh stated how the GLL Sport Foundation has helped him through his sporting career "The GLL Sport foundation support has made a massive difference to my training in recent years. Gaining access to gyms across London has allowed me to keep up with my physio, strength and conditioning around my busy working schedule. It's been instrumental in driving team success, and individual success"
More information
Athletes from across the UK can apply for support through the GLL Sport Foundation via the online portal. Applications close 20 February 2022.
The GSF is the UK's largest independent athlete support programme. Since launching in 2008, the programme has provided over 18,000 athlete awards, with a total value of £12.1 million. In 2022 GLL is investing over £1.2 million into local athletes aiming to follow in the footsteps of Tokyo 2020 Olympic and Paralympic medallists.