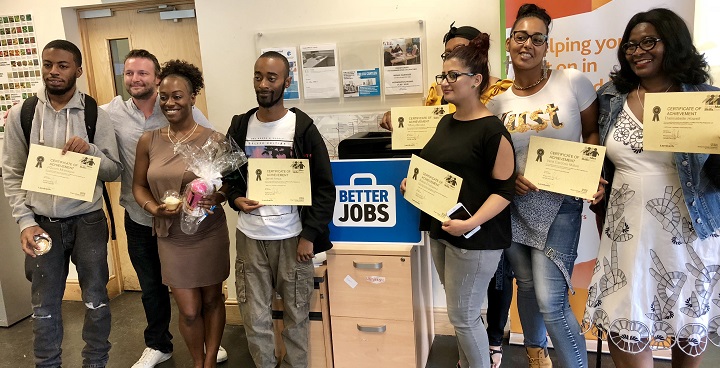 The graduates of the programme set up by Lambeth Council to help local people into apprenticeships graduated on Friday. They received certificates from Cllr Jack Hopkins, Deputy Leader of the Council. Some have already applied for Business Admin apprenticeships at King's College Hospital and Lambeth Council working within HR, IT, Adult Care Services and Customer Service roles – with interviews on Monday.
Green Man
Green Man Skills Zone delivered the pilot 3-week training course, focused on Lambeth residents at who are long term unemployed or at risk of long-term unemployment. The course included interview skills, CV writing, employers' expectations, workplace visits and personal development workshops on communication, self-awareness etc.
Word from the Cabinet
Cllr Hopkins told the graduates: "On this course you've created a friendship group, people to ask for help and advice. That's the best thing about work – you create networks. Partnership – that's how we get things done. I'm proud of you all for finishing the course, now go and give the next step all your pride and passion."
Next steps
Graduate Tiffany B said: "I was getting interviews but not offers. We've worked with Lambeth Council and the NHS, studying every day – understanding mindsets, what bad customer service looks like and how to turn it around. The opportunity to 'earn while you learn' is the obvious 'best thing about it', but finding I'm not the only person, learning together and making new, lifelong friends are the best things about it, too."
---
More information
The Apprenticeship Levy is a charge on all UK employers with a pay bill over £3m. Government adds 10% to the money. Employers have 24 months to spend these funds on training. The aim is for apprentices to be 2.3% of the workforce in all public sector bodies with 250 or more employees.
The definition of 'Apprenticeship' changed when the Government introduced its Apprenticeship Levy, in April 2017. The age limit has gone, so people over 24 can now be apprentices. Someone already working for a public sector employer can also train for another job with the funding available.
The Work Force Plus programme is a partnership between public sector organisations committed to providing apprenticeship opportunities for unemployed Lambeth residents. Led by Lambeth Council, the partnership also includes Kings College, Guys & St Thomas, and St George's Hospitals, Department for Work and Pensions. Lambeth College, The Metropolitan Police and London South Bank University have also been involved in strategic group meetings.