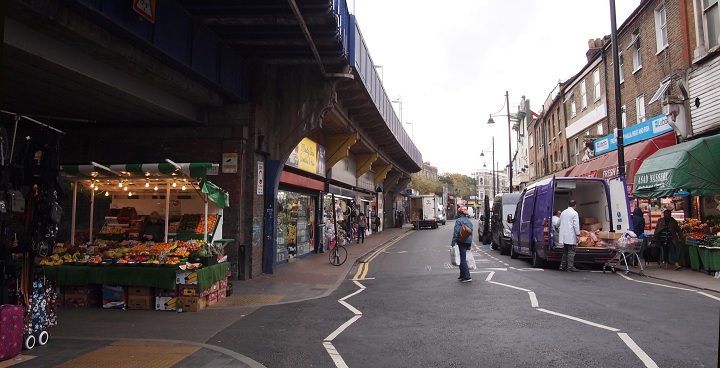 Atlantic Road is an historic and important part of Brixton town centre for many shops, market traders and businesses that serve the local and wider community. It is used by delivery vehicles, shoppers, residents, visitors, Brixton railway station, the 322 bus route and cyclists.
Following the improvements to Electric Avenue, Lambeth Council is working with Brixton BID, Brixton Neighbourhood Forum, Brixton Society and Metropolitan Workshop – the architects for the Somerleyton Road development – on ideas for how to improve the layout of Atlantic Road for everyone who uses it.
Why Atlantic Road?
The road can be congested with cars, vans, lorries, buses and cyclists, and the narrow pavements can be crowded. This can make it difficult for businesses, intimidating for pedestrians and cyclists, and confusing for visitors.
A new layout could improve loading and unloading for shops and businesses, widen the pavement for pedestrians, make it easier to wait for the bus, and improve conditions for cycling.
Get involved
The Council, Brixton BID and the design team are visiting Atlantic Road to meet the shops and businesses and introduce the project. We will also distribute leaflets, and arrange workshops and an exhibition to give everyone the opportunity to share their experiences of using the street and how it could be improved.
Join us at one of our two workshops:
When:   Tuesday 14 February, 4pm
Where: Dogstar, 389 Coldharbour Lane, Brixton.
Book your free place for either workshop on Eventbrite.
The information gathered at these workshops will used to develop a number of options for presentation at the exhibition. We will update the blog with details of the exhibition.
Find out more
If you have any questions, please get in touch with us: