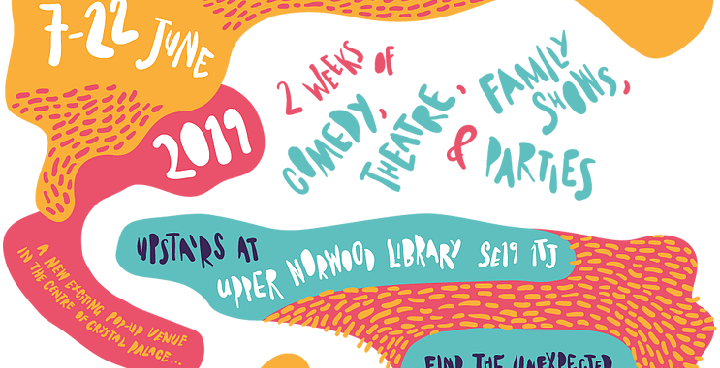 Last year, local theatre producers, Disentangle Projects started a brand-new pop-up arts festival upstairs at Upper Norwood Library. The aims were to:
bring together the community – including community members who had never been to a live performance before
to advertise the library as a brilliant events and exhibition space and
To explore and demonstrate how the library hub can be adapted to all kinds of uses.
Popping up in 2019
This year, the 2019 festival will continue to present the best of theatre, comedy, cabaret and family entertainment, with:
Comedy nights including previews of new stand-up shows for the Edinburgh festival and Fringe. .
Family events like workshops making beds for mice and the ratty tale of the Pied Piper; puppet theatre for the very young, superhero stories and Sherlock Holmes
Theatre and spoken word evenings include 30 plays in one hour, an improvised Jilly Cooper story, and local poets.
Cabaret and late night events featuring silent disco, swing dance, cabaret nights, a pop-up escape room and a closing party for the whole fortnight.
Community spirit
This year's focus will be on playfulness, immersive experiences and storytelling. People will interact with the library as a known environment seen in a different and unexpected way, or be told a captivating story in an intimate setting. We hope to ignite new conversations around the creative arts and inspire audiences to challenge preconceptions about what a library is 'for'.
The Attic leading to other rooms
We want our community to feel they don't need to travel into central London to get high-calibre art. We aim to develop other spaces in the building throughout the 2019 festival. We'd love to reach out to other venues in 2020 and 2021 and start establishing a permanent, annual arts festival spotlighting Lambeth, Crystal Palace and surrounding areas.
For more information
Guest author: Attic Arts Club
ding service operated by Lambeth Council and is a community hub including the Library of Things