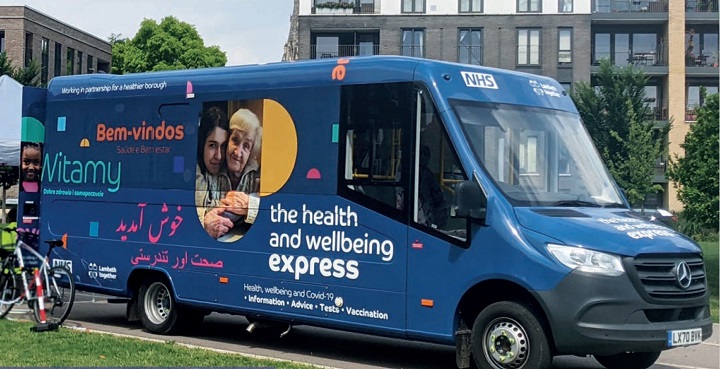 The latest Lambeth Talk magazine brings you news and updates from Lambeth Council and the community. The Front cover photo shows the Health and Wellbeing Express – a new service providing Covid-19 tests and vaccination, and medical advice from a partnership of local health services and organisations, all over Lambeth
News and updates include
Cllr Claire Holland, Leader of Lambeth Council, highlights the work  Lambeth's Citizens Assembly have completed on recommending action on climate change.
Following the withdrawal of US Forces from Afghanistan, Lambeth Council publicly reaffirms our commitment to welcoming refugees and providing a safe space for families fleeing war.
Lambeth Libraries joins forces with Black Cultural Archives and many local organisations, inviting writers and artists to devise a programme of events celebrating culture, books, music, art and more for Black History Month celebrations all through October.
The Health and Wellbeing Bus travels all over Lambeth to provide Covid-19 tests and vaccination, and medical advice from a partnership of local health services and organisations.
Fostering: Lambeth carers for Lambeth kids.
The new Guidance for Parents and Carers on Choosing Safe Out-of-School Settings
Lambeth Heritage Festival returns bigger than ever with events 1for a whole spread of interests and heritages.
Five projects supported by Crowdfund Lambeth helping make our borough a unique place to live, work, learn and do business during the pandemic.
Lambeth reinforces its apology to all victims and survivors of abuse and neglect in Lambeth's children's homes from the 1930s to the 1990s and gives details of how to apply for our unique redress scheme.
Get your copy of Lambeth Talk
Your new Lambeth Talk will be distributed free by post to every household and business in the borough, with deliveries starting on 1 September.
Or you can read it online or download it.