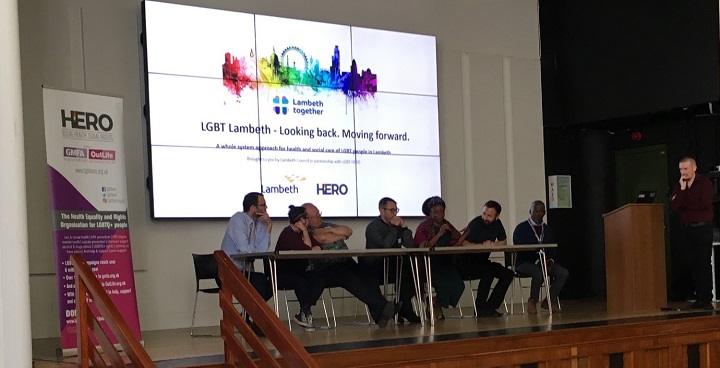 On 19 September Lambeth Public Health and local partner organisation LGBT Hero held Lambeth's second conference as part of the council's whole systems approach to reducing LGBT health inequalities: 'Looking back, moving forward'.
Engagement event
The event was attended by approximately 60 members and leaders of LGBT communities in Lambeth as well as colleagues from Lambeth Council, the NHS, provider organisations and VCS and Community Groups who interact with LGBT people in the borough.
At the event we heard from key leaders across Lambeth including Ruth Hutt, Director of Public Health, Cllr Sonia Winifred, Cabinet Member for Equalities and Culture, Cllr Ed Davie, Cabinet Member for Health and Social care and Dr Adrian McLachlan, Chair of NHS Lambeth CCG. Dr Michael Brady, the National Advisor for LGBT Health to NHS England ended the event with closing remarks.
Looking back
Lambeth and our partner organisations shared the key achievements of the work we have led over the last year which has focused on 5 key areas agreed following the first engagement event in February 2018:
Primary care with a specific focus on Trans people's health needs through the Pride in Practice programme
Training and support for children and young people in schools and youth organisations through the Lambeth Youth Co-operative and Lambeth Youth Council
Black Thrive's action plan on BME LGBT mental health
Trans awareness training for frontline council staff
Improving equalities monitoring across the Council and the CCG
Moving forward
In the context of Lambeth Together and embedding the whole systems approach the 2019 event aimed to understand how we can better meet the needs of LGBT people in the provision of health and social care.
Roundtable discussions with attendees focused on 5 key areas:
Mental health and LGBT people
Primary Care and LGBT people
The needs of older LGBT people
Access needs for disabled LGBT people
Housing and LGBT people
The feedback gathered from this event will now feed in to an action plan detailing the key priorities for Lambeth council and partners to take forward.