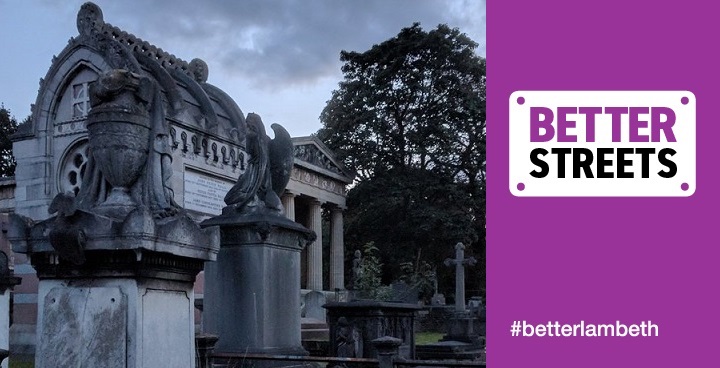 Helen Hayes is the MP for Dulwich & West Norwood – and as "species champion" for the Common Pipistrelle bat, also a keen supporter of local initiatives to promote and support bats in the UK.
Bat detectors
As Helen learned what The Bat Conservation Trust and Lambeth are doing for the conservation of bats in her constituency, she tweeted: "Thanks for amazing bat walk this evening in beautiful West Norwood Cemetery, we detected common & soprano pipistrelle bats."
Species champion
"I'm very pleased to champion the Pipistrelle. This species can be seen in the green spaces of Dulwich and West Norwood as well as lots of other urban and rural settings across the UK. Watching the aerial acrobatics of pipistrelles as they hunt insects at night is a pleasure that everyone should have the opportunity to witness. I am delighted to add my voice to that of Bat Conservation Trust in order to speak up for these wonderful but sadly undervalued and misunderstood animals," said Helen.
Lambeth loves bats
Dr Boulton said: "Lambeth's residents are fascinated by bats, and we've always had a very good turnout for bat walks, usually run in partnership with Lambeth's many 'Friends of' groups. As well as hearing the bats using bat detectors, then seeing them flying around over their heads which is always a joy, especially for children of all ages, it's the ideal opportunity to provide information, help remove many of the misconceptions about our bats, and also enables us to encourage residents to do their bit to protect and encourage bats.
More bat walks next year
"The weather is now too cold and wet for most bat activity, so I'm planning my 2018 programme. Last year, we had 22 Lambeth bat walks across 12 sites including Brockwell Park, Streatham Common, Ruskin Park, Kennington Park, Archbishop's Park, Clapham Common, Windmill Gardens and West Norwood Cemetery. They usually run from just after dusk for 90 minutes
Wildlife in its natural habitat
 "What's more, Lambeth's bats always like to put on a good show. I think they appreciate people coming out on a night to see them in their natural environment. Everybody goes home happy – bats included."
---
For more information