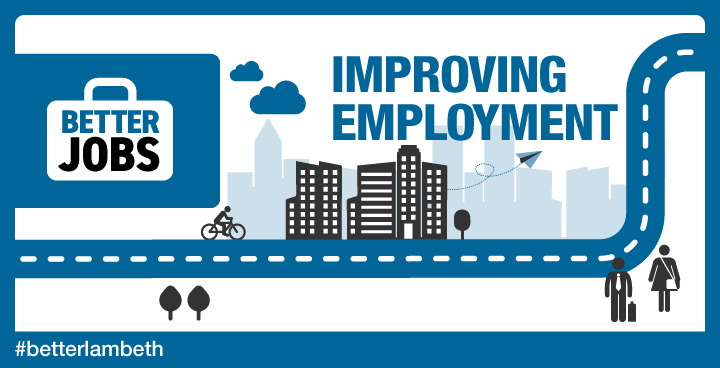 Background
Since 2009 we have seen more than 20,000 new jobs created in Lambeth, and it's predicted there will be a further 25,000 by 2031. We want to ensure that these new jobs are good jobs, that provide good opportunities, and pay the London Living Wage. We also want to continue to help support disadvantaged groups into work.
What we're doing
As well as supporting a huge improvement in our schools, we are developing a skills agenda to help local employers to find the skills they need in the borough's population and are supporting people who have special needs or who have been long-term unemployed to find work.
We have a dedicated team called Lambeth Working, who help residents look for work, coordinate apprenticeship opportunities, and work with local businesses. They can help you if you:
Lambeth Working Construction Team works with developers building major new schemes in the borough. For information about jobs, apprenticeship and training opportunities, contact LambethWorking@lambeth.gov.uk.
Work with us
We want employers to look for staff locally and for potential employees to take opportunities to expand their skills.
All our contractors and staff are paid the living wage. We also encourage businesses to pay their staff the living wage. Find out more on the Living Wage Foundation website.
We support businesses to hire apprentices.
The Government has hiked business rates but we've launched a £3m scheme to help local business cope. Find out how you can apply for business rate support.

View our other key campaigns
Return to the Building a Better Lambeth page.