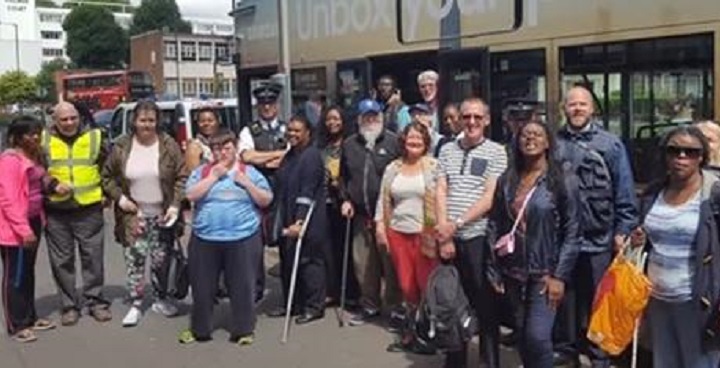 We're inviting disabled people to come to Big Bus Day on July 10 to find more about keeping safe when travelling on the buses. There will be interactive role plays and discussions to improve knowledge on how to keep safe and who can help if something happens. The session takes place on a moving bus following an organised route around Streatham.
Inclusive fun
Big Bus Day is designed to be inclusive and fun. We meet at 11.30am in 336 Brixton Road SW9 7AA, travel together to get on the bus in Streatham and travel back together at 2pm (if you want to). It would be a good idea to bring something to drink and some food.
Disability hate crime
Disabled People are often targeted on public transport, with name calling or worse. Disability Advice Service Lambeth (DASL) work with Transport for London, Lambeth Council and the Met. Police, as part of the Lambeth Disability Hate Crime Partnership. With disability hate crime on the rise in Lambeth, it's more important than ever to know how to keep safe on buses.
Self-confidence
Louise Holden, DASL's Community Development Worker says, "Making sure disabled people feel confident to go about their daily life and not be subjected to name calling, harassment or worse is one of the main driving factors for the work of the Lambeth Disability Hate Crime Partnership."
---
For more information
Disability Advice Service Lambeth (DASL) is a Deaf & Disabled People's Organisation offering information, support and advice to promote independent living in Lambeth. DASL are proud to be part of the Independent Living & Carers Partnership with Age UK Lambeth, Royal Association for Deaf People and Help for Carers, which provides services to Disabled Adults, Carers of any age and Older People 55+. See their information pages
To book Big Bus Day, phone Louise 020 7501 8976