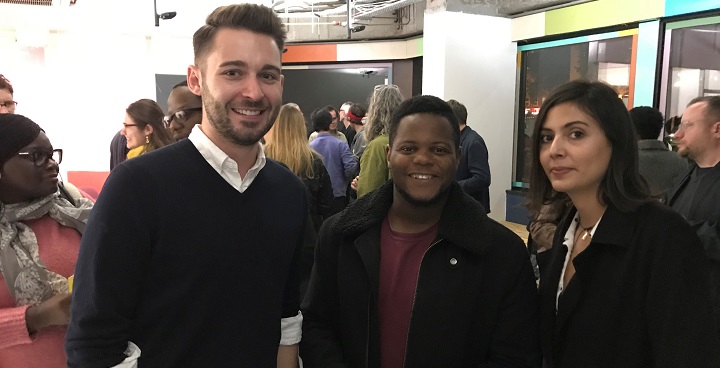 The first tenants are moving into a former Lambeth council office block in Brixton which, once fully occupied, will become London's biggest affordable workspace. The project is providing space for new and growing businesses, social enterprises and charities, with a focus on design, creativity and innovation. In all it will create 850 new jobs.
Business plans
The new tenants joined other prospective occupants at the 1970s red brick tower called International House this week to start outlining their business plans, ambitions and networking with other local business people.
Word from the Cabinet
Cllr Matthew Bennett, Cabinet Member for Planning, Investment & New Homes said at the event: "It's really exciting that Brixton is now home to London's biggest affordable workspace. This is a huge opportunity for our community to start, develop and build their businesses. We have a shortage of flexible office space in Brixton and the wider borough so this meets a real need.
London Living Wage
"We have also agreed with 3Space who are managing the space that everyone working here will be paid the London Living Wage as a minimum, directly delivering on an election promise that we made earlier this year so that not only are we supporting local businesses but ensuring local people benefit from high-quality, well-paid jobs."
BuyGiveWork
3Space's BuyGiveWork scheme will apply to International House and involves giving space away to social enterprises and community groups alongside space that is paid for by commercial businesses. There is also an expectation that all occupiers will make an active contribution to Brixton's community. The building is expected to be fully occupied by September next year, and will operate for five years.
Develop leadership skills
Among the new tenants are Andria Takkidou and Raymond Pelekamoyo from Business Launchpad who help under-30s start their own businesses and develop the leadership skills that allow them to reach their full potential. Raymond said: "We have a space on the first floor here so are one of the first tenants. Tonight was interesting to find out more about how the local community has been involved and will be involved in the future of this new space. This type of work space has been needed in Brixton for a long time, it is presenting so many opportunities."
A set of projects
Lambeth Council has prioritised using its land and buildings to provide affordable workspace for new and existing local businesses. There are currently more projects under way, including Tripod at Lambeth Town Hall, POP Brixton, Granby Space in Waterloo and LJ Works in Loughborough Junction.
For more information
Visit 3Space's information pages