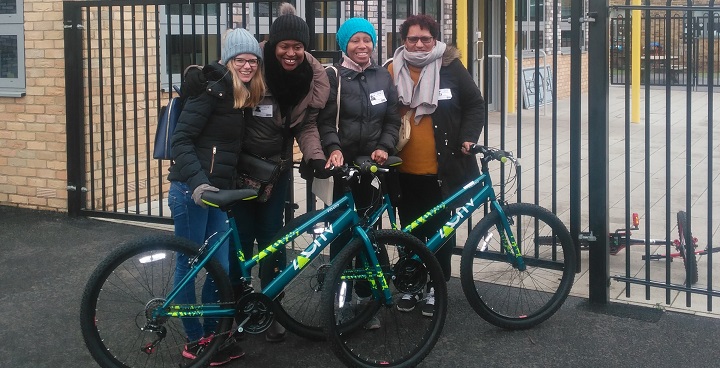 Female parents and carers at Woodmansterne Primary who had never cycled, or hadn't since childhood, completed Bike It You Can Too this winter. Undertaking practical sessions on the school playground and local streets they braved sunshine and rain to learn to cycle and gain the confidence to make local journeys by bike.
"I remember when I first started I didn't have any stamina, I was quite tired but then I had more energy and when I finished a session I felt really good!" – Omolara Ojikuntu, parent.
Sustrans' Bike It You Can Too courses are led by experienced instructors, who will provide constant support to get you cycling in a relaxed and fun way. The project aims to create a social group of parents who have undertaken a significant journey together, encouraging other parents to get involved, and to cycle with their children. Training is funded by Lambeth Council as part of the This Girl Can campaign- inspiring more women to boost their health and fitness through sports and exercise.
Benefits
Cycling is one of the easiest forms of exercise to build into your daily routine. It builds strength and muscle tone, improves your cardiovascular fitness and can improve your mental health. And that's not even to mention the impact that increasing the number of journeys made by bicycle can have on reducing congestion and air pollution in your local area. For parents too, cycling with their children can help to reduce both child and adult obesity, helping you and your family to lead healthier lives.
"I hadn't ridden since I was 8. So just being out there and the freedom of it, I've really enjoyed it, I've surprised myself how much I have enjoyed it." – Celeste Mupanduki, parent –
Get on a bike
The courses run for 10 to 12 weeks, with a one- or two-hour session each week, depending on the numbers taking part and their proficiency. Sessions usually take place in the morning after dropping  children off at school. You don't need to have your own bike as one will be provided for you. And, for all those who complete the course, there is the opportunity to buy the bike they have learnt on for a substantial discount, around 50% of the recommended retail price.
---
For more information