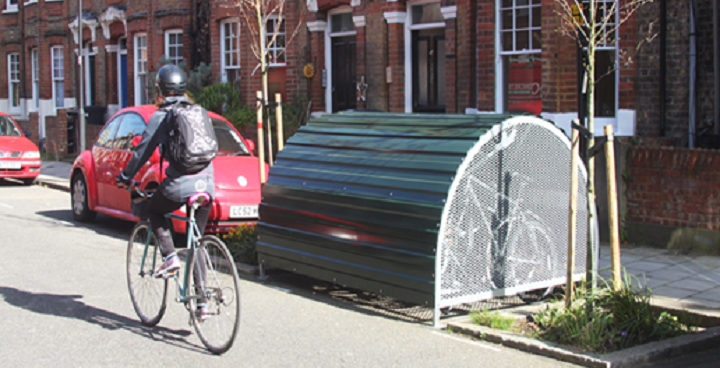 Many residents lack indoor space to keep their bikes secure, so since 2012 we've been installing special bike hangars around the borough. With 220 installed so far, we are consulting residents on 55 roads which we've identified for the next phase of hangars to be installed.
Climate emergency
Lambeth Council recently declared a climate emergency and committed to going carbon neutral by 2030. The cycle hangar programme is an important part of our work to clean up our air and help more people to take up active travel like cycling and walking.
Cycling is a win-win for our health and the environment – reducing our reliance on polluting transport at the same time as getting more active.
With a rise in the number of people choosing cycling as their main way of getting around we want to ensure more people have access to secure bike storage facilities, making the decision to get out on our bikes as simple as possible!
Word from Cabinet
Cllr Claire Holland, Deputy Leader of Lambeth Council with responsibility for Environment & Clean Air, said:
''I'm delighted more bike hangars are being installed around Lambeth this year, making cycling more accessible to residents who don't have the space to store their bikes securely indoors.
To tackle the climate crisis all of us need to switch cars and cabs for bikes and public transport, and these bike hangars are just one of the initiatives we've introduced to make cycling the best way to get around Lambeth.  With new cycle lanes, quietways and changes to road layouts being introduced all over the borough, we're supporting our residents to use less polluting ways of travelling around London, cleaning up our air and making our streets safer for everyone."
In demand
It's clear that our programmes are starting to have an effect, as we've seen exceptional demand for new hangars all over Lambeth. Our teams are working flat out to install new hangars and identify new locations for future use.'' The bike hangars, provided by Cycle Hoop, have room for up to 6 bikes each and take up half a parking space.
Our proposals
The proposed locations can be viewed on maps of Lambeth's proposed cycle hangar location webpage. There are currently 220 hangars already installed providing 1,320 bike spaces, but we know that there is lots of demand for more to be installed. People who have applied for a space and were added to our waiting list will be prioritised when the new spaces become available, with some spaces available for residents who hadn't applied already if hangars aren't already full.
Have your say:
We're now consulting with residents at the specified locations and have sent letters to those affected by the bike hangar installations.
For more information or to have your say if you're affected by our proposals please visit the Lambeth Council website www.lambeth.gov.uk/cyclehangars4
Find out more about our cycle parking scheme and how to suggest locations Lambeth cycle parking scheme.
The consultation runs from 16 August to 15 September 2019.