I have just returned from an unforgettable two-week trip to Oogo, Kenya. 'Birds Fly to Africa' has been a one-year project resulting in the wonderful mosaics now decorating Oogo Primary School.
I approached Sir Craig Tunstall in September 2014 clutching my proposal, expressing my passion for global education and how I could continue and deepen the understanding of global citizenship through this arts cultural exchange project. He agreed and planning started.
Together our UK and Kenyan school communities have created a legacy project which has only been possible with commitment, dedication and huge involvement from all our schools, pupils, staff, parents, administration and the Art4Space team and management.
On our first day we unlocked a huge metal cupboard in a very sparse classroom and found all our mosaics and resources packed there neatly, still in the FedEx boxes.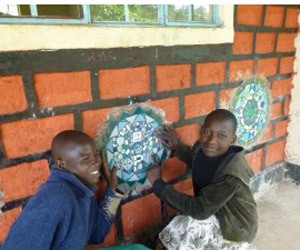 I trained two Kenyan volunteers, Peter and Carilus, how to design and install mosaics onto the buildings. We built a bamboo and wooden scaffolding system and work got underway. It was difficult, working with African cement, monsoon rains, hot temperatures and not to mention the scaffolding, but after ten days of installation we made it!
The mosaic birds (and Crawford planets) just look amazing, and every piece of mosaic was placed with thought, love and skill. The children at Oogo spend hours looking at the dazzling badges, coins and old keys from London that are embedded in the mosaics. A pupil from Glenbrook had placed his toy car wheel for the eye of the Puffin and a pupil from Paxton had put a gem from her hairband into a wing, and the Kenyan children just loved that.
During my final three days new children were turning up at school saying they wanted to come to the 'bird school'! Engaging these children in education before had been difficult. Many of them are orphans and several have to fend for themselves. Oogo will now receive small grants for orphan children who want to gain education there.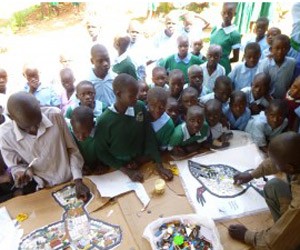 My next steps are to edit a ten-minute documentary film about the two weeks shared there, and complete Oogo scrapbooks and mosaics to share with our schools. Every Federation school will get two small panels depicting African life made from materials that the Oogo children looked for, such as broken beads, stones, bottles tops and seeds.
To find out more about Julie's trip to Africa and other projects she is involved in, visit www.art4space.co.uk