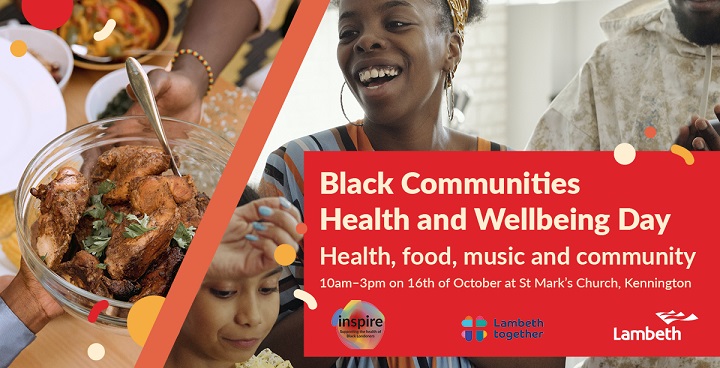 A day for health, food, music and community. Pop into St Marks Church, Kennington on October 16 to get a quick health and wellbeing check and eat some free, delicious and healthy African and Caribbean food!
Time to reconnect
As life is returning to normal after a challenging 15 months it's time to reconnect and make sure we're looking after our long-term health – the things that have always been important to keep an eye on, like blood pressure, staying active and checking for lumps and bumps.
Food and music for body and soul
We know food and music is the secret to a happy body and soul, so we'll have FREE food and DJ Rita Ray playing global sounds from black talent old and new. Rita is an international DJ with roots in Lambeth – you might know her from her days co-running and DJing at the Mambo Inn in Brixton.
NHS advice
Your wonderful local NHS teams will be on hand from 10am to 3pm to offer advice on everything from keeping well to blood pressure and diabetes checks, healthy eating and how to spot the early signs of breast and prostate cancer.
There will also be opportunities to participate in some exciting activities throughout the day, such as dance sessions.
Talk to us on Lambeth's Health & Wellbeing bus
Plus, got an idea you want to share to improve health in your community? The local NHS and Public Health team will be on board Lambeth's Health and Wellbeing bus to welcome feedback and ideas.
More information
No need to book a ticket, just turn up and we'll be there for a chat:
Black Communities Health and Wellbeing Day
St. Mark's Church, 337 Kennington Park Road,  London SE11 4PP
Saturday, 16 October 2021, 10.00am to 3.00pm
Free