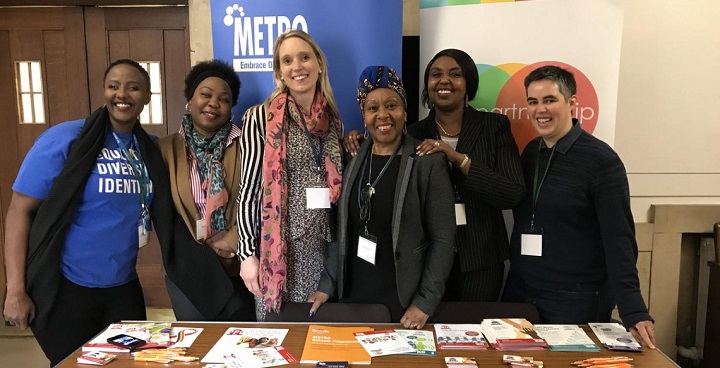 Fast-Track Cities London and One Voice Network are working together on a Black History Month project documenting stories, work and opinions of Black people living with HIV and the people and organisations supporting them.
HIV in the community
In 2020, many Black people in Lambeth and across London are living long and well and are passionate about educating others about living with HIV.
People on medication with the HIV virus supressed cannot pass on HIV. This is a relatively new concept among Black African and migrant communities due to stigma and discrimination, lack of information and appropriate resources, and long-term inequalities.
Black people in London are disproportionately affected by poor sexual health.
Of all heterosexual people diagnosed with HIV in 2018, 41% were Black African men and women
52% of Black Africans diagnosed with HIV have been diagnosed late, meaning a ten-fold greater risk of dying within a year compared with those diagnosed promptly
Working together to get to zero HIV in London's Black communities
The NHS is reviewing and reflecting what has worked and what hasn't for people living with HIV during Covid-19. Fast-Track Cities London is using this unique moment to look at evolving HIV services in London. This will give providers and commissioners a framework of what 'good' looks like, for people living with HIV in the future.
Fast-Track Cities London is supporting the HIV Clinical Forum with this work. We will set up a community advisory group of people living with HIV, and a task and finish group of partners from across the statutory and non-Government (NGO) sector. Everyone will be work on this jointly and we aim to publish the new 'good practice' framework this winter.
More information
If you're Black and living with HIV and want to share your story, thoughts and opinions or send us a video, please email maria.vidal-read@nhs.net.
For more information email londonftci@nhs.net.
As a fast-Track City, London is taking on the challenge to end new HIV infections in the capital by 2030.
Most recent data show an overall 42% reduction in new HIV diagnoses in London since 2015.
Lambeth-led London HIV Prevention programme Do It London started in 2015.
Lambeth's HIV Care and Support services are run by METRO (pictured).
Please share this to friends and colleagues you think have something to say on what London can do together to get to zero.