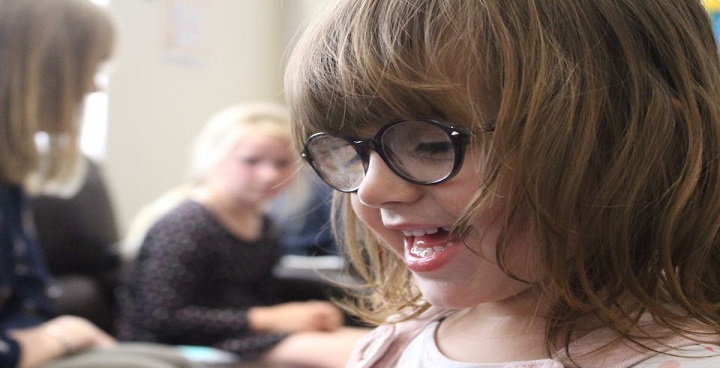 In this ground-breaking event, runners are challenged to being blindfolded whilst completing a 5k or 10k course around the iconic Queen Elizabeth Olympic Park. The blindfolded participants are tethered to their sighted partners, who in turn act as guides and navigators on the route.
Julia Howegego, whose three-year-old daughter Myla is vision impaired, will be donning the blindfold for the entire run, whilst Sara takes on the role of guide.
After Myla's nystagmus was first diagnosed as a baby, Julia attended RLSB's course for parents of young children with sight loss, where she and husband James benefited from the advice and support of the charity. Through RLSB, the family have also met other parents of vision impaired children, which has also proved invaluable.
Julia says of the run, "I'm not fazed by the thought of running in darkness. In training I have had total trust in Sara to guide us safely around the park. It also helps that we are the same height and run at a similar pace. What matters to me most is that the event gets people to stop and think about the life long battles of children living without sight."
The money raised by Julia and Sara will help blind children and young people gain independence and confidence for life.
Support Julia and Sara's fundraising efforts by donating
Or, if you'd like to take on the challenge yourself, there's still time to register.