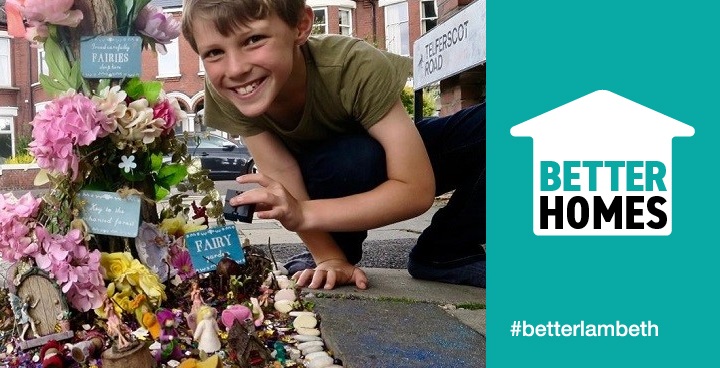 Blooming Lambeth
In summer 2017, IEL's judges and writer/photographer Elaine Kramer looked at gardens nominated by gardeners, friends and neighbours. Lambeth's Mayor, Cllr Marcia Cameron, presented 18 of the borough's best gardens and gardening communities with awards in a ceremony at the recently-reopened Museum of Garden History. Every garden won £100 to invest in growing better next year.
Word from the Council
Cllr Marcia Cameron, Lambeth's Mayor said: "Sometimes as a Councillor you hear bad things about Lambeth – but I know so much to be proud of: the busy-ness of Waterloo Station, open-air swimming at the Lido, a working windmill, the Black Cultural Archives. Here we are at the world's first garden museum – and it's in Lambeth.
"And something we can be particularly proud of is this – so many community activists growing food, growing communities, all doing something to help Lambeth be a better place."
The Fairy Garden
The Fairy Garden on Telferscot Road, was created by Petrina Burrill's children "for children, offering a place where you can suspend reality and believe in the magic of life. The community maintains the garden with new offerings appearing regularly whether it be glitter or fairies, fresh flowers or shells. Ever changing, it has organically formed to take on a unique life of its own. It aims to give joy and bring people together; a place to pause and take time out from the real world and it works!"
Creating more fairy gardens
The family who created the garden moved to Australia between being shortlisted for their 'Blooming Lambeth' award and the prizegiving ceremony. They asked for the £100 prize to be spent on creating more fairy gardens – talk to Incredible Edible Lambeth to find out more.
---
For more information
Food growing is getting bigger and bigger on Lambeth estates. It brings communities and generations together and inspires healthy eating. A trained Community Gardener from Urban Growth will help get your project up and running. You'll have opportunities to get involved in cooking (or cookery lessons) and other food workshops. Please contact gettinginvolved@lambeth.gov.uk
Incredible Edible Lambeth (IEL) is a network of food growers and activists working to improve our communities. We exist to re-localise the food system in Lambeth so that it nurtures us and strengthens our communities. See a map of what's growing where and read more about our campaigns on our news pages.
Thank you to photographer Elaine Kramer for the words and pictures on the 'Blooming Lambeth' pages.