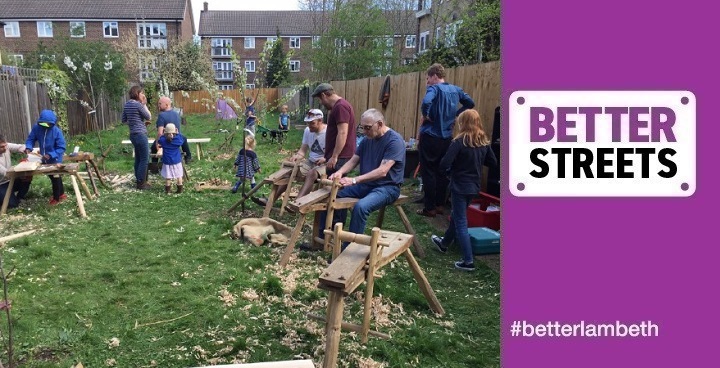 Lambeth's gardening community named Blenheim Estate's garden – growing fruit and flowers to bring young and old together – and Rosendale's community orchard joint 'Best Community garden on a housing estate' in 2018's Blooming Lambeth awards.
Blenheim Gardens
Local residents grow wholesome products and beautiful flowers, supported by Progress UK who offer mentoring opportunities. The gardens were a resident-led project and have not been subjected to any form of anti-social behaviour. Funding to develop the area was secured from Tesco's 'bags of help' scheme and the estate growing areas have been further extended this year.
Rosendale Community Orchard
Trees were chosen by residents in open consultation meetings and planted in 2016 with the support of Lambeth Council and the Orchard project. We added currants, raspber­ries, strawberries and herbs – something sweet and delicious to harvest whilst trees establish themselves. Two years on the Orchard has grown into a tranquil space for the community. The Orchard is used for children from a local nursery to experience gardening, and we're about to build 4 raised beds to give children the chance to grow vegetables
Word from the Cabinet
The Mayor of Lambeth, Cllr Chris Wellbelove, represented the Council at the Awards ceremony by presenting all the prizewinners with their awards. Each winning garden got £100 to invest in their garden.
Cllr Ed Davie, Lambeth Council Cabinet Member, introduced the Blooming Lambeth awards, saying: 'For an inner London Borough, Lambeth has a huge number of wonderful green spaces. Anyone can get involved in gardening to improve our environment, health and connection to each other and the natural world. Let's all grow even bigger in the coming year.'
For more information
Incredible Edible Lambeth is an inclusive networking organisation, working to support local food growing, food entrepreneurs and food activism. Contact us and champion local, healthy and sustainable food for all. Membership is free! If you eat, you're in!