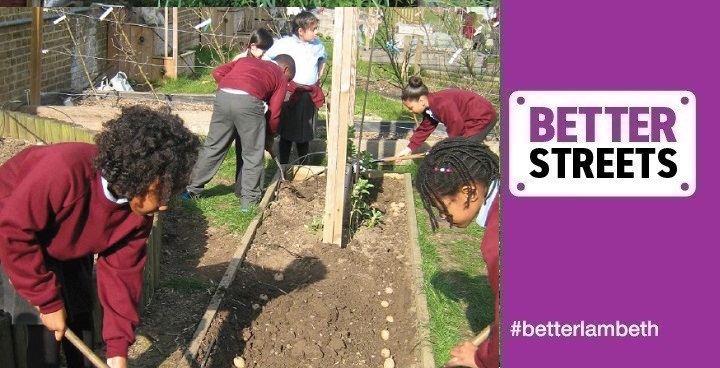 Heathbrook School
Heathbrook won their Blooming Lambeth Award for the school's community garden, a vital resource for their focus on outdoor learning – with evidence that outdoor learning helps children's development. All pupils have regular lessons in the Wildlife Garden to develop gardening skills and nurture flora and fauna like frogs and greater crested newts. We were one of three Lambeth schools to create the Natural Thinkers curriculum and now provide training for teaching staff from across London. We use our greenhouse to bring harvesting forward ahead of the summer holidays and Year 5s have developed a substantial composting area to enhance sustainability.
Hitherfield School
Hitherfield Primary School's Edible Playground is an amazing space full of espalier apple trees and a beautifully designed arrangement of raised beds to facilitate a really good learning environment. Over the year each child in the school has a term's access to outdoor lessons – really inspiring place for many of the children who do not have gardens at home. The garden is also a magical place for children to observe the seasons, and the mini beasts that live there, especially a large ladybird population. Some beautiful art work has also been created in the garden, and every year there is a 'Who can grow the Biggest Sunflower ' competition.
For more information
Incredible Edible Lambeth is an inclusive networking organisation, working to support local food growing, food entrepreneurs and food activism. Contact us and champion local, healthy and sustainable food for all. Membership is free! If you eat, you're in!