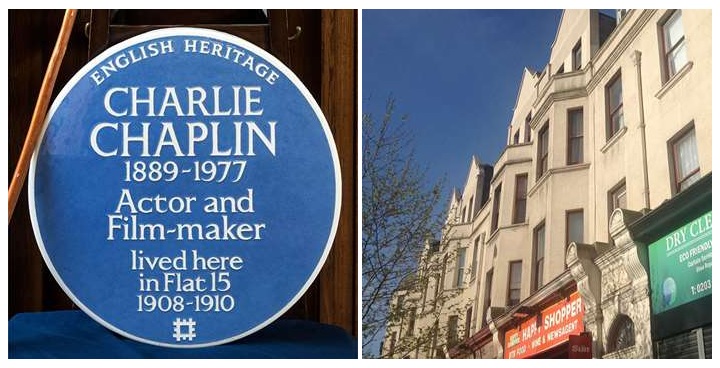 Fellow comedian and silent film enthusiast Paul Merton unveiled the plaque at the mansion block on Brixton Road, where Chaplin shared the top-floor flat with his older brother Sydney between 1908 and 1910.
Though he found fame and fortune in America, the roots of Chaplin's comedy lay in the music hall and vaudeville scene of his home city and his life in South London is reflected in many of his films.
Of all the places Chaplin lived in London, he later singled out Glenshaw Mansions, referring to the building by name in his novella, Footlights. He also recalled it with affection as the first proper home of his own – a 'cherished haven' – in his 1964 autobiography.
What are Blue Plaques?
London's famous blue plaques link the people of the past with the buildings of the present. Now run by English Heritage, the London blue plaques scheme was started in 1866 and is thought to be the oldest of its kind in the world.
Take a tour of Lambeth Blue Plaques
There are 25 blue plaques in Lambeth, and over 900 plaques across the capital, honouring the notable men and women who have lived or worked in London.
You can browse the full collection of plaques, find ones nearby or search for your favourite figures from history at either: