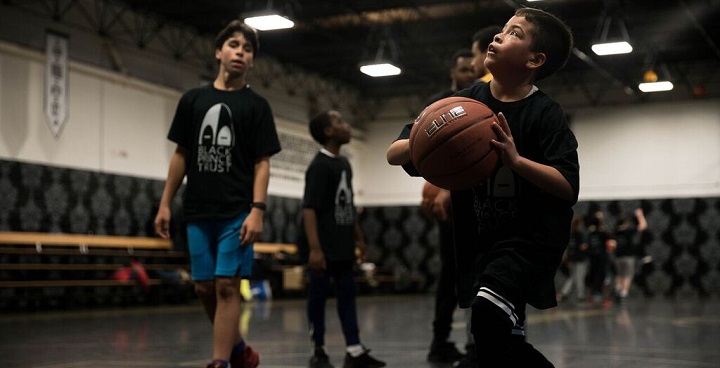 The Black Prince Trust (BPT) offer sport as a platform to get people engaged and involved – and then create opportunities for them to develop in life skills, training, health, and employability. Their Community Hub offers a safe and non-discriminatory environment based at the Lilian Baylis Old School. Lambeth Council redeveloped the 2.5-acre site in 2011, but BPT is now self-sustaining with agreed social outcome targets to meet and measure.
All fit together
BPT offer as many 'free to user' training sessions as possible, with facilities for running, football, athletics, and more – including basketball for over 1,500 players every. They also offer 35 community-based sports sessions a week – from Open Gym sessions to 'get Active' sessions for people aged 40+. We offer activities for all ages, at all levels of fitness, such as in-chair yoga sessions. Thursday football and boxing sessions support adults with mental health needs. One initiative for this year is a new outdoor gym, a "trim trail" offering wheelchair-accessible stations and getting ever nearer to offering people the chance to exercise 24 hours a day, seven days a week.
Supporting partnerships
We couldn't deal with 200,000 users a year as a charity with just three staff, so we specialise in working with delivery partners, both on and off-site. They include Fight for Change, who boost young people's confidence through boxing lessons; Viability, who work to get hard-to-reach people back into education; and London Lions professional basketball team. We've had some really high profile successes with basketball, including international players here for coaching sessions.
Health day
On 1 February 2018 we're hosting a Health Day led by Lambeth Clinical Care Group with multiple partners such as GPs, Lambeth Council officers and mental health workers. It's all about finding the best ways of working together, about supporting patients to boost their health through exercise. And about reminding people we're not just here for local people in Prince's and Oval Wards, but for everyone in Lambeth.
---
For more information
More information on The Black Prince Community Hub can be found on their information pages
You can talk direct to Jason Henley, Community Manager on 020 7840 2908.