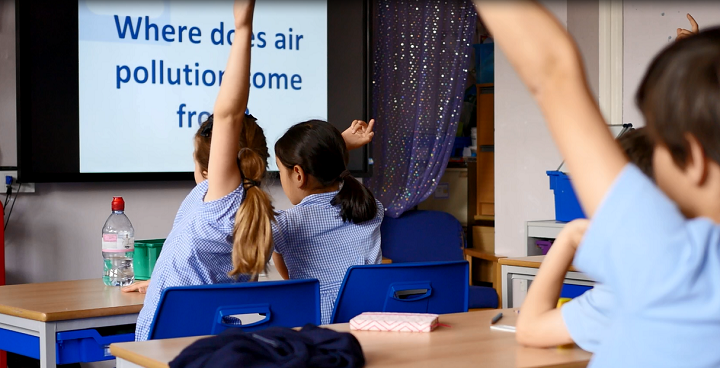 Lambeth Council chose Sustrans to work with them following a pilot clean air project conducted with Lambeth primary schools as part of a pilot last year.
Sustrans will be working with 12 schools in Lambeth which have been identified by the GLA as being in areas that breach the legal limit for Nitrogen Dioxide.
Sustrans have developed a package of fun and engaging lessons and activities which are easy for teachers to integrate into the curriculum.
Air Quality Project Officer, Joe Lindsay, will work with 8-11 year-olds from 12 schools to monitor air quality over the next year, using diffusion tubes and a particulate matter real-time pollution monitor. This will enable the children to identify the problem areas where action is needed to improve the air they breathe.
They will develop clean air walking route maps, campaign with letters and posters, and plant flowers and shrubs in their playgrounds, creating green places to enjoy.
The children will also commit to walking, cycling or scooting to school and demonstrate how increased levels of active travel, as opposed to car travel, can improve air quality.
Word from the Cabinet
Cllr Claire Holland, Lambeth Cabinet Member for Environment and Clean Air, said: "Poor air quality has a huge impact on the health of children in our borough, that's why we are determined to reduce pollution and protect our young people from dirty air.
"This project with Sustrans will help us do just that, making children aware of the problem and helping them design their own solutions and campaigns.
"We have already installed two green screens and have four more confirmed at some of our most exposed primary schools, we are working with businesses and developers as well as schools to reduce emissions and engaging more and more residents in our fight against air pollution. This is something we are committed to tackling."
'Positive action'
Matt Winfield, director of Sustrans London, said: "We all need to tackle air pollution, particularly in London where we have some of the country's most polluted roads. Our work with schools is vital as we all have a responsibility to teach the next generations about the importance of clean air to our health and environment and also educate them about what we can do to improve air quality such as walk, cycle or scoot.
"It's great to see that Lambeth is taking such positive action to clean up the air in the borough as part of its Air Quality Action Plan. Many children in Lambeth already walk, cycle or scoot. The pollution is often from the schools' proximity to busy roads, so as part of this project, we're supporting the school in making recommendations about infrastructure which could reduce the volume of traffic near the schools.
"It would be great to see more London schools get involved in our Air-mazing project and actively promote the benefits of sustainable travel, helping parents and pupils make the switch to cycling, scooting and walking."
'Fun-filled learning'
Orchard Primary School Head Teacher, Hoosen Randeree said: "Through a range of fun-filled learning activities the children have become more aware of the impact of air pollution upon our environment and activities they could undertake in order to make a positive difference to the world around them."
The schools involved in this air quality project are:
Oasis Johanna Primary School
St Mark's Church of England Primary School
Wyvil Primary School
Sudbourne Primary School
St Andrew's Church of England Primary School
Kings Avenue School
Hillmead Primary School
Allen Edwards Primary School
Lark Hall Primary School
St Saviours Church of England School
St Mary's Roman Catholic Primary School
Elmgreen Primary school