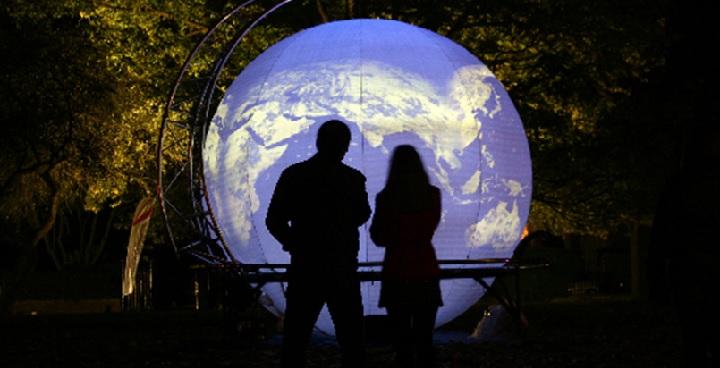 Taking place across two evenings in Vauxhall Pleasure Gardens these free events start at 5.30 pm with some food and drinks available on each evening. Brilliant Vauxhall is part of a year-round cultural programme brought to you in a partnership between Vauxhall One and Lambeth Council to make this urban oasis a go-to destination.
When:   November 17 and 18
Where:   Vauxhall Pleasure Gardens, London, SE11 5HL
Impossible Arts present Codex and Lightweight
Lightweight (pictured above) is a 360' projection globe that invites audiences to have their picture mapped into live animations that swarm around the globe alongside movies, audio graphic effects, pictures and even tweets. A four-metre high inflated sphere lit with intense translucent colours, projected video images, animations and visual effects that spin magically around the outside of the globe enhanced by multi-channel music from hidden speakers.
Codex is a giant illuminated book filled with a thousand and one fables all animated with intriguing images. The open book glows in the night sky and uses cutting-edge technologies to update the age-old wonder of story-telling – some tales are true, others a bit harder to believe. The audience can interact as it includes questions and stories that the audience Tweet – the clever Codex chat-bot will even reply to them individually via twitter and on the book.
PifPaf bring a Celestial Sound Cloud which explores the relationship between nature and technology and asks whether human symbiosis with technology can draw us closer to nature by play. Interact with stars in distant galaxies, make the planets sing the music of the spheres as you dance beneath a Celestial Cloud floating in the trees. Play with the cloud to make you own music or lie back, be bathed in sound and colour whilst your friends and family dance to make the Celestial Cloud sing for you.
Emergency Exit Arts and Light fires bring elements of their new co-production 'Dr Kronovator's Fire Laboratory' to Vauxhall Pleasure Gardens. Dr Kronovator's Fire Laboratory is a stunning interactive environment with ingenious fire installations for audiences of all ages, including children. At the centre of the Fire Laboratory is the eponymous Dr Kronovator and his acrobatic assistant preparing their experimental flame and steam-powered contraptions that audiences are invited to activate.
Word from the Cabinet
Cllr Sonia Winifred, Cabinet Member for Equalities and Culture, said: "We are so proud Lambeth Council and Vauxhall One are bringing such a varied series of events to Vauxhall and showing off what a vibrant and welcoming place Vauxhall is. We want everyone to come and take part in all the free events from now until early next year and celebrate Vauxhall as a real destination."
'Top class entertainment'
Aseem Sheikh, Chair of Vauxhall One, said: "Vauxhall has always been a destination with top class entertainment and a diverse cultural offer, from the glories days of Vauxhall Pleasure Gardens. We are delighted to be working with Lambeth Council to deliver such a variety of unique events for everyone."
Lots happening in Vauxhall
Vauxhall One and Lambeth Council are bringing an exciting calendar of free events to Vauxhall for one and all this autumn and winter. So, if you live, work or are coming to visit make sure you follow #LoveVaux and Tweet us @LoveVaux and keep up to date.
Vauxhall; the original London destination for arts, culture, and music.