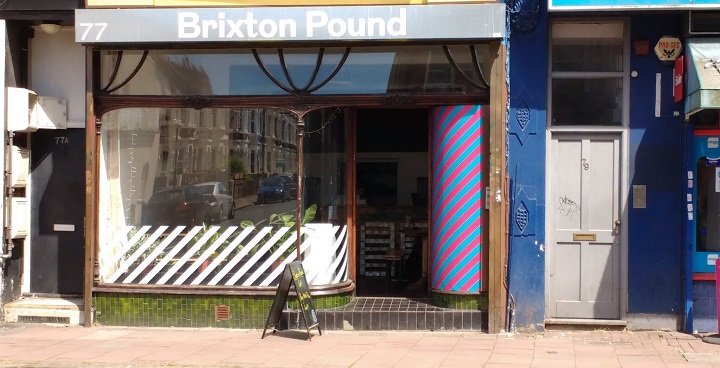 What you pay at the Cafe
Have you visited Brixton Pound (B£) Cafe yet? We're an innovative and inclusive social space on Atlantic Road with a central 'pay as you feel' philosophy that sets us apart! Visitors pay what they can afford, or what they want to pay, rather than a set price. Whether you pay £3.50 or £0.50 for your cappuccino or peppermint tea, you'll still receive the same quality of product and service – the pay-what-you-feel aspect simply gives visitors the opportunity to enjoy an affordable experience – not easy in Brixton these days! – or to be as generous as they wish. All our profits go towards keeping the Cafe going.
Rescued food
Astonishingly, for every five bags of food bought in London, one bag of usable produce is thrown away. But where is 'away'? We know that we need to make our economy more circular, reducing, reusing and recycling – and now we've added a fourth 'r': rescuing food that would otherwise end up in landfill. At the B£ Cafe, rescued food inspires our ever-changing menu. Through kind donations from local traders such as Sweet Carolina and the Old Post Office Bakery, the Brixton Pound Cafe serves delicious and healthy vegetarian meals, with no two days ever quite the same.
Rescuers wanted!
We're looking for more local businesses who could participate by donating ingredients or food produce that would otherwise be thrown away. This will not only help reduce your waste but also your overall impact on the environment, while contributing to the Brixton community in a unique way.
Get involved
The Brixton Pound Cafe is quickly becoming a cherished hub of local social activity.  And we're always looking for enthusiastic volunteers! If you're handy in the kitchen, willing to offer one three-hour shift per week for a minimum of six weeks, in return you can learn barista coffeemaking skills and gain experience of working in a creative kitchen environment and a thriving community business.
The Brixton Pound Cafe also has a basement for hire. So far we've hosted art installations, yoga classes, parties, meetings, workshops and more at affordable community rates.
For more information
Contact Lucy for more on volunteering
Contact Spacehire to enquire about using our basement
If you're growing food in a garden or allotment and want to contribute, or if you're a business wanting to want to help with food rescue, contact us to arrange a one-off pick-up or ongoing partnership, or come by the cafe for a chat.
Address: 8 Brixton Road, London SW9 6BU
Phone: 020 8617 9629