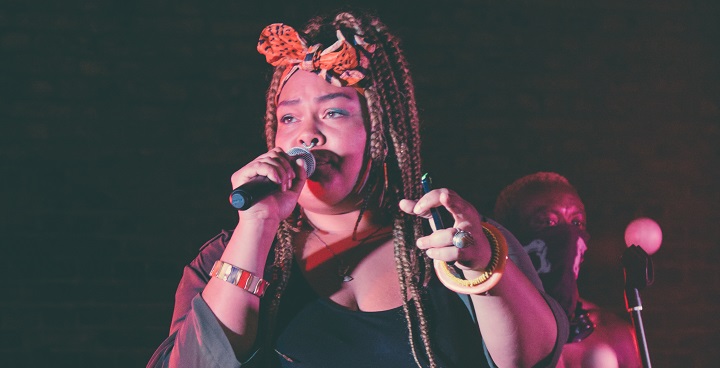 Brixton will be Ovalhouse's new home in 2020 – with the new venue providing a hub for artists, innovation and culture. With the run up to this move Ovalhouse have been hosting an annual festival in the heart of Brixton called Brixton City Festival. This is an opportunity to work with and meet local people, uncover hidden artistic talents and offer opportunities to collaborate on a larger scale.
Three sheds
This year's programme sees three custom designed sheds hosting an array of dramatic performances in various forms at Windrush Square.
Brixton Outloud – presents a magazine style radio station and podcast from Shed 1, playing tunes and chatting with Brixton's finest icons and rising talent
Shed 2 is Virtual Theatre – which features 4 awesome plays and gives audiences the opportunity to experience sitting in theatre spaces through VR headset.
Shed 3 sees Ovalhouse encouraging people to write Love Letters to Brixton using a specially designed post box in Windrush Square.
Day and night
There's a new digital Brixton Game where people can log on via mobile phones and get involved. Evening events include Oi Barman! At Dogstar in Coldharbour Lane – a site specific performance hearing secrets and anecdotes of the bar trade. There will be storytelling influenced by African and Greek mythology from Brixton's very own Lara Lee as she returns to Windrush Square with a theatrical, funky, soulful performance of Wonders of Brixton/ Odyssey.
Culture and talk
Ovalhouse teams up with SOCIETY × SW9, showcasing and podcasting talks, workshops and events all weekend that explore how technology, ecology, culture and protest can build a more positive future.
Family day
Sunday will once again be Family Day, culminating in Windrush Square for workshops, music and fun activities for young and old.
 What they said about Brixton City Festival
'Brixton City Festival is ready to rock' The Voice.
'Recommended Best Thing to Do in London' The Londonist, 2016, 201
---
For more information
All events are free
Friday 14 3pm-6pm, Saturday 11am-10pm Sunday 11am-3pm.
 For full details see the OvalHouse information pages