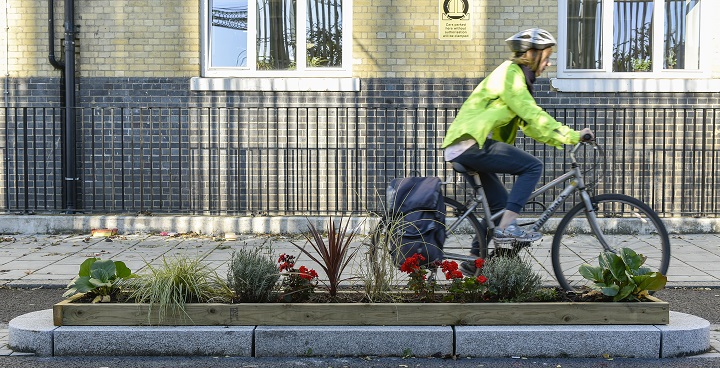 Update: In February 2020, consultation started with communities in Ferndale, Loughborough and Railton neighbourhoods to discuss ideas. You can join the conversation via the videos and add to the comments map on the Commonplace website. In May 2020 we'll start talking about the town centre.
A Brixton liveable neighbourhood is the cornerstone of Lambeth's ambitious new draft Transport Strategy that was launched before Christmas. The strategy looks to transform the way we think about transport, putting people before traffic, and enabling Lambeth residents to live healthier lives whilst creating better places for everyone to enjoy.
Low traffic neighbourhoods
Improving Brixton town centre is at the heart of Lambeth's bid, with the transformation of Atlantic Road being complemented with bold proposals to create 'low traffic neighbourhoods' in adjacent residential areas.
This will reduce rat-running and traffic in local residential streets so that people can move around more safely, whilst also vastly improving the air quality.
Last week, Cllr Claire Holland, Cabinet Member for Environment and Clean Air, visited Waltham Forest who were the recipients of an earlier round of funding from the same scheme.  She saw the impact that reducing traffic in local neighbourhoods has had in allowing more children and families to travel from their homes to the park, to school and to the shops by making their local area more attractive and safer for them to do so.
Word from the Cabinet
Cllr Holland said: "We are committed to making our roads safer for everyone – particularly our young people – to get around by walking and cycling, to improve both people's health and our toxic air, so this funding from the Mayor of London and TfL is fantastic news.
"We have looked long and hard at how to improve Brixton's transport system in a way that makes the roads safer and cleaner but also keeps things moving.
"Improving local neighbourhoods so that they are no longer dominated by car traffic, and enabling people to travel more safely and actively, is at the heart of this project.
Prioritising those that are walking, cycling or using public transport address all of these things and will be beneficial for local residents and businesses and make the centre of Brixton a much healthier, more attractive destination."
Leading the way on clean air
The bid will supplement Lambeth's ambitious green agenda, which has seen the council become a London leader on carbon reduction and clean air initiatives. Lambeth became the first London borough to declare a climate emergency in January this year and committed to bringing forward its target to becoming carbon neutral by 2030.
The council is also already investing in young people's health by installing green screens in our primary schools; trialing the School Streets timed road closure project; vastly upgrading the borough's electric vehicle charging infrastructure and investing in safer cycling infrastructure to enable everyone to feel confident to cycle.